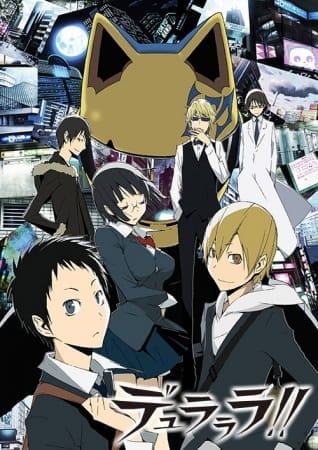 Aired: Jan 8, 2010 to Jun 25, 2010
Duration: 24 min. per ep.
Viewed: 60
Synonyms: Durarara!!, Dhurarara!!, Dyurarara!!, Dulalala!!, Dullalala!!, DRRR!!, デュラララ!!
In Tokyo's downtown district of Ikebukuro, amidst many strange rumors and warnings of anonymous gangs and dangerous occupants, one urban legend stands out above the rest—the existence of a headless "Black Rider" who is said to be seen driving a jet-black motorcycle through the city streets. Mikado Ryuugamine has always longed for the excitement of the city life, and an invitation from a childhood friend convinces him to move to Tokyo. Witnessing the Black Rider on his first day in the city, his wishes already seem to have been granted. But as supernatural events begin to occur, ordinary citizens like himself, along with Ikebukuro's most colorful inhabitants, are mixed up in the commotion breaking out in their city. [Written by MAL Rewrite]
Kida, Masaomi

Main

Orihara, Izaya

Main

Ryuugamine, Mikado

Main

Sonohara, Anri

Main

Sturluson, Celty

Main

Heiwajima, Shizuo

Main

Kishitani, Shingen

Supporting

Yumasaki, Walker

Supporting

Kishitani, Shinra

Supporting

Kitakoma, Shoujirou

Supporting

Kuzuhara, Kinnosuke

Supporting

Mikajima, Saki

Supporting

Morita

Supporting

Nasujima, Takashi

Supporting

Niekawa, Shuuji

Supporting

Niekawa, Haruna

Supporting

Shiki, Haruya

Supporting

Shiri

Supporting

Takiguchi, Ryo

Supporting

Tanaka, Tom

Supporting
Comming soon!!! But still, you're very handsome.
Please comment for requesting this anime.