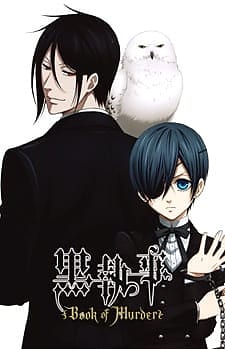 Aired: Jan 28, 2015 to Feb 25, 2015
Duration: 58 min. per ep.
Viewed: 55
Synonyms: Black Butler: Book of Murder, 黒執事 Book of Murder
At the behest of the Queen, Earl Ciel Phantomhive hosts a lavish dinner party attended by several of the finest members of polite society—as well as struggling author, Arthur. But as the party reaches its high, a terrible murder takes place and none other than the Earl himself is suspected of the crime. As a violent storm rages on outside, the death count continues to climb. The Phantomhive household and their eminent guests find they must cooperate in order to solve this mystery before they too fall prey to the mysterious murderer. However, it seems that not even the perfect butler, Sebastian Michaelis, is safe from this horror. [Written by MAL Rewrite]
Arthur

Main

Grey, Charles

Main

Michaelis, Sebastian

Main

Phantomhive, Ciel

Main

Agni

Supporting

Asman Kadar, Soma

Supporting

Baldroy

Supporting

Diaz, Irene

Supporting

Finnian

Supporting

Keane, Grimsby

Supporting

Lau

Supporting

Mey-Rin

Supporting

Midford, Elizabeth

Supporting

Phelps, Patrick

Supporting

Phipps, Charles

Supporting

Ran-Mao

Supporting

Siemens, Georg von

Supporting

Snake

Supporting

Tanaka

Supporting

Undertaker

Supporting
Comming soon!!! But still, you're very handsome.
Please comment for requesting this anime.