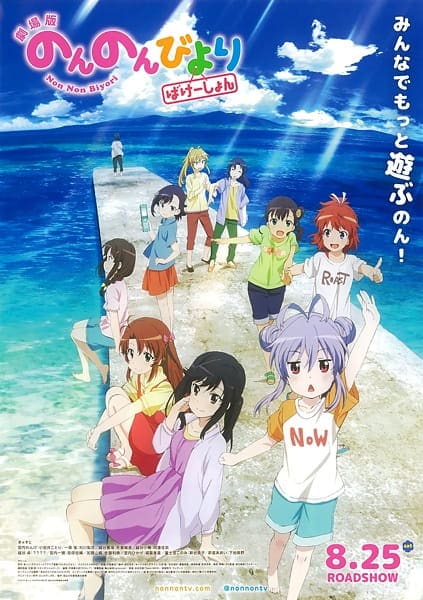 Aired: Aug 25, 2018
Duration: 1 hr. 11 min.
Viewed: 389
Synonyms: Non Non Biyori Movie: Vacation
Summer vacation is drawing to an end. When Suguru wins a free trip to Okinawa, all of the five students of Asahigaoka branch school are excited to end their vacation with a bang. Along with Hikage, Konomi, and their teacher and the candy store owner, everyone goes to Okinawa for a fun three-day trip. There, Natsumi makes friends with Aoi, the girl who helps out at the hotel they stay in. (Source: ANN)
Ichijou, Hotaru

Main

Koshigaya, Komari

Main

Koshigaya, Natsumi

Main

Miyauchi, Renge

Main

Fujimiya, Konomi

Supporting

Kagayama, Kaede

Supporting

Koshigaya, Suguru

Supporting

Miyauchi, Hikage

Supporting

Miyauchi, Kazuho

Supporting

Niizato, Aoi

Supporting
Because we are making use of some free resources to reduce the main server load, the player can be opened on another domain or showed as a new tab (you have to allow pop-up if you're not using Chrome).