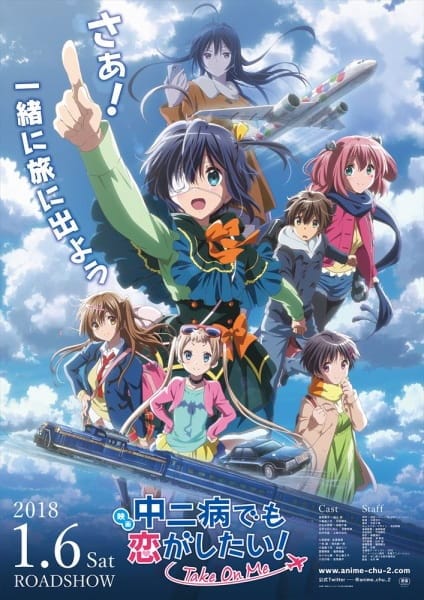 Aired: Jan 6, 2018
Duration: 1 hr. 33 min.
Viewed: 5
Synonyms: Eiga Chuunibyou demo Koi ga Shitai! Take On Me, 映画 中二病でも恋がしたい!-Take On Me-
Although already a third-year high school student, Rikka Takanashi remains a chuunibyou—a "disease" that causes people to fantasize about themselves and their surroundings. Her relationship with Yuuta Togashi has also gone unchanged for the past six months, and with entrance exams right around the corner, both of them strive to enroll at the same college. However, Tooka—Rikka's elder sister—decides to take Rikka to Italy as she has found a stable job there. This unforeseen turn of events causes a commotion between the couple as neither of them want to be separated from each other. Desperate for ideas, they seek assistance from their friends, and after a brief conversation, they come up with a plan—to elope. Chuunibyou demo Koi ga Shitai! Movie: Take On Me is a sensational drama featuring the couple—Yuuta and Rikka—as they journey across Japan. The two attempt to prevent Rikka from being taken to Italy, but will they be able to succeed in doing so? [Written by MAL Rewrite]
Dekomori, Sanae

Main

Nibutani, Shinka

Main

Takanashi, Rikka

Main

Togashi, Yuuta

Main

Tsuyuri, Kumin

Main

Cento

Supporting

Isshiki, Makoto

Supporting

Shichimiya, Satone

Supporting

Takanashi, Mother

Supporting

Takanashi, Tooka

Supporting

Togashi, Kuzuha

Supporting

Togashi, Yumeha

Supporting

Togashi, Mother

Supporting
Comming soon!!! But still, you're very handsome.
Please comment for requesting this anime.