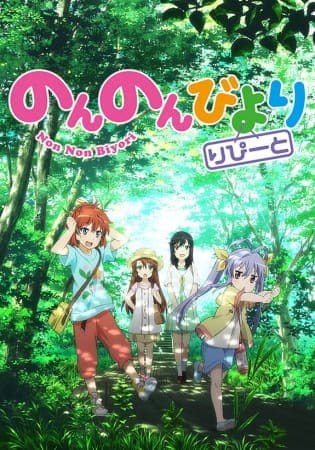 Aired: Jul 7, 2015 to Sep 22, 2015
Duration: 23 min. per ep.
Viewed: 20
Synonyms: Non Non Biyori Repeat
Far from the hustle and bustle of urban life, and with only a single candy store and bus route to its name, the rural Asahigaoka is certainly not a place for everyone. Nevertheless, the village's children still manage to cheerfully spend their days exploring and having fun in the wilderness around them. One such child, Renge Miyauchi, the youngest of the group, looks forward to the entrance ceremony of the upcoming school year, signalling her entry into first grade and the beginning of her elementary school life. Attending the only school in town, Renge and her friends, seventh grader Natsumi Koshigaya and her eighth grade sister Komari, make the most out of their rural lifestyle, playing and studying everyday. Meanwhile, fifth grader Hotaru Ichijou has just moved to Asahigaoka from Tokyo, unaware of the numerous adventures and memories that await her. [Written by MAL Rewrite]
Ichijou, Hotaru

Main

Koshigaya, Komari

Main

Koshigaya, Natsumi

Main

Miyauchi, Renge

Main

Fujimiya, Konomi

Supporting

Ichijou, Mother

Supporting

Kagayama, Kaede

Supporting

Koshigaya, Yukiko

Supporting

Koshigaya, Suguru

Supporting

Miyauchi, Hikage

Supporting

Miyauchi, Kazuho

Supporting
Because we are making use of some free resources to reduce the main server load, the player can be opened on another domain or showed as a new tab (you have to allow pop-up if you're not using Chrome).