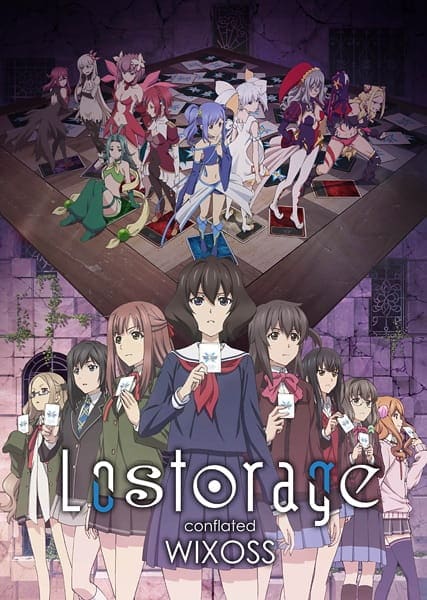 Aired: Apr 7, 2018 to Jun 23, 2018
Duration: 23 min. per ep.
Viewed: 44
Synonyms: Lostorage Conflated WIXOSS
The peaceful days turn out to be short-lived as the shadow of another Selector Battle looms large. Kiyoi Mizushima is the first to notice that things are amiss, and she makes her move to put an end to the cycle of darkness.The Battle this time includes a new card, "Key," and has been set up with rules different than before. With both the mastermind and their motive shrouded in mystery, the darkness grows ever deeper and more menacing. Suzuko Homura, Chinatsu Morishita, Hanna Mikage, Ruuko Kominato, Yuzuki Kurebayashi, Hitoe Uemura, and Akira Aoi, the Selectors gather once again. (Source: ANN)
Homura, Suzuko

Main

Kominato, Ruuko

Main

Kurebayashi, Yuzuki

Main

Mikage, Hanna

Main

Morikawa, Chinatsu

Main

Piruluk

Main

Uemura, Hitoe

Main

Aoi, Akira

Main

Lil

Supporting

Tama

Supporting

Mayu

Supporting

Mel

Supporting

Midoriko

Supporting

Milulun

Supporting

Nanashi

Supporting

Piruluk, Allos

Supporting

Remember

Supporting

Satomi, Kou

Supporting

Shirai, Shouhei

Supporting

Layla

Supporting
Because we are making use of some free resources to reduce the main server load, the player can be opened on another domain or showed as a new tab (you have to allow pop-up if you're not using Chrome).