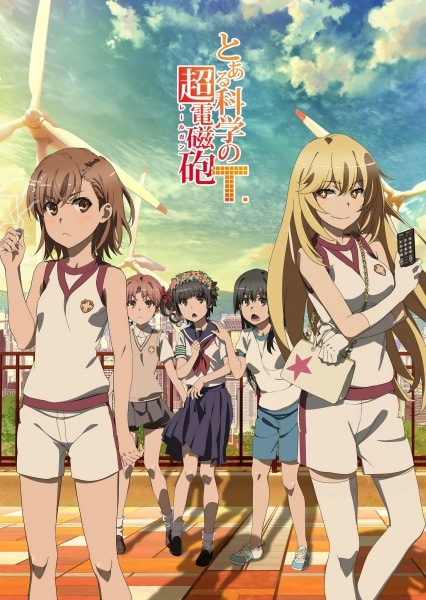 The Daihasei Festival has begun, and that of course means that Tokiwadai Middle School—a prestigious all-girls' middle school—is competing too. Despite the participation of the "Ace of Tokiwadai," Mikoto Misaka, the other students who are participating are still putting their utmost effort into winning, no matter how the impossible feat may seem against her might. However, not all is fun and games. Due to the the festival, Academy City opens to the outside world, and various factions have begun plotting ways to infiltrate the city. Misaka appears to be on their radar, and as the festival proceeds, people lurking from the shadows begin to emerge... Toaru Kagaku no Railgun T brings back the Tokiwadai Ace and her friends as they dive deeper into the dark side of Academy City. From terrorist attacks to ruthless underground projects, anything is possible in this city. [Written by MAL Rewrite]
Duration: 24 min. per ep.
Synonyms: Toaru Kagaku no Railgun T
Saten, Ruiko

Main

Shirai, Kuroko

Main

Shokuhou, Misaki

Main

Uiharu, Kazari

Main

Misaka, Mikoto

Main

Misaka, Misuzu

Supporting

Yobou, Banka

Supporting

MISAKA 10032

Supporting

Mugino, Shizuri

Supporting

Nokleben, Keitz

Supporting

Professor

Supporting

Seivelun, Frenda

Supporting

Sogiita, Gunha

Supporting

Takitsubo, Rikou

Supporting

Tsukuyomi, Komoe

Supporting

Wannai, Kinuho

Supporting

Xochitl

Supporting

Kumokawa, Seria

Supporting

Kouzaku, Mitori

Supporting

Konori, Mii

Supporting
Because we are making use of some free resources to reduce the main server load, the player can be opened on another domain or showed as a new tab (you have to allow pop-up if you're not using Chrome).