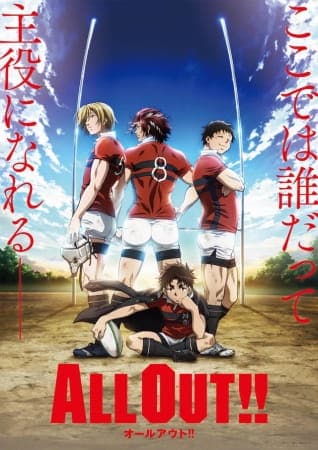 Aired: Oct 7, 2016 to Mar 31, 2017
Duration: 24 min. per ep.
Viewed: 4
Synonyms: All Out!!, オールアウト!!
In rugby, there is no ace striker, there is no number four batter, so who is the star of the team? The story begins at school entrance ceremony of Kanagawa High School where Kenji Gion, a small but gutsy go-getter joins the rugby club. He joins with his classmate, Iwashimizu, who has a complicated past and sub-captain Hachiouji, who always takes good care of his Club members. Lastly, there is Captain Sekizan, who has overwhelming powers but keeps his cards close to his chest. With such differences in both personality and physical performance, the team must learn to work and grow together so they can become the best. (Source: TMS Entertainment)
Gion, Kenji

Main

Iwashimizu, Sumiaki

Main

Musashi, Yukichi

Supporting

Nagata, Wife

Supporting

Nagata

Supporting

Noka, Taihei

Supporting

Ochiai, Keita

Supporting

Ogi, Youichi

Supporting

Ohie, Taichi

Supporting

Ooharano, Younger Brother

Supporting

Ooharano, Etsugo

Supporting

Ooshima, Ukyou

Supporting

Osaka, Sunao

Supporting

Ririn

Supporting

Rurun

Supporting

Sakura, Renpei

Supporting

Sano, Hikaru

Supporting

Seki, Shizuo

Supporting

Sekizan, Takuya

Supporting

Shinshi, Yutaka

Supporting
Comming soon!!! But still, you're very handsome.
Please comment for requesting this anime.