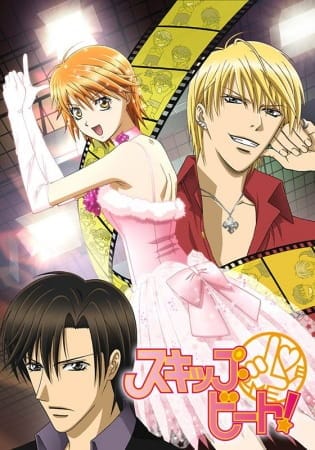 Aired: Oct 6, 2008 to Mar 30, 2009
Duration: 24 min. per ep.
Viewed: 305
Synonyms: Skip Beat
Bright, diligent, and yet naïve 16-year-old Kyouko Mogami works hard to support the career and dreams of her childhood friend, crush, and rising pop icon, Shoutarou Fuwa. Toiling endlessly at burger joints and tea ceremonies, the innocent Kyouko remains unaware that day in day out, all her tireless efforts have been taken for granted, until, one day, she finds out that her beloved Shou sees her as nothing but a free servant. Shocked, heartbroken and enraged, she vows to take revenge on the rookie star by entering the ruthless world of entertainment herself. As she steps into this new life, Kyouko will face new challenges as well as people who will push her out of her comfort zone. Based on the best-selling shoujo manga by Yoshiki Nakamura, Skip Beat showcases the growth of a young woman who slowly unlearns how to work herself to the bone for the satisfaction of others and takes her future into her own hands instead. [Written by MAL Rewrite]
Mogami, Kyouko

Main

Tsuruga, Ren

Main

Fuwa, Shoutarou

Main

Yashiro, Yukihito

Supporting

Takarada, Maria

Supporting

Takarada, Lory

Supporting

Shingai, Seiji

Supporting

Sawara, Takenori

Supporting

Reino

Supporting

Ogata, Hiroaki

Supporting

Nanokura, Mimori

Supporting

Nakazawa

Supporting

Momose, Itsumi

Supporting

Mogami, Saena

Supporting

Miya

Supporting

Matsushima

Supporting

Matsunai, Ruriko

Supporting

Kurosaki, Ushio

Supporting

Kotonami, Kanae

Supporting

Koenji, Erika

Supporting
Because we are making use of some free resources to reduce the main server load, the player can be opened on another domain or showed as a new tab (you have to allow pop-up if you're not using Chrome).