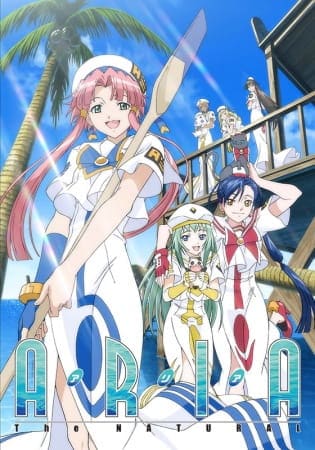 Aired: Apr 3, 2006 to Sep 25, 2006
Duration: 24 min. per ep.
Viewed: 15
Synonyms: Aria the Natural
Akari Mizunashi continues her training to become a Prima Undine (a professional tour guide gondolier) along with her friends Aika and Alice in the peaceful city of Neo Venezia. Despite the fact that these three girls are from competing companies, they are constantly together, learning more about how to become better tour guides and more about the mysteries of Neo Venezia. As the group continues to meet interesting and unforgettable people through their daily routines, they will also come closer to the secrets that make the enigmatic and ever beautiful city of Neo Venezia so warm and alive. Welcome back to Neo Venezia: the city where miracles can be created by hand. [Written by MAL Rewrite]
Ferrari, Akira E.

Main

Florence, Alicia

Main

Glory, Athena

Main

Granzchesta, Aika S.

Main

Mizunashi, Akari

Main

Pokoteng, Aria

Main

Carroll, Alice

Main

Cat Sith

Supporting

Tsukiyo

Supporting

Granzchesta, Hime

Supporting

Izumo, Akatsuki

Supporting

Izumo, Arata

Supporting

Katori

Supporting

Maa

Supporting

Maestro

Supporting

Pitt, Albert

Supporting

Sora

Supporting

Ayanokouji the 51st, Udo

Supporting

Ayano

Supporting

Atsushi

Supporting
Because we are making use of some free resources to reduce the main server load, the player can be opened on another domain or showed as a new tab (you have to allow pop-up if you're not using Chrome).