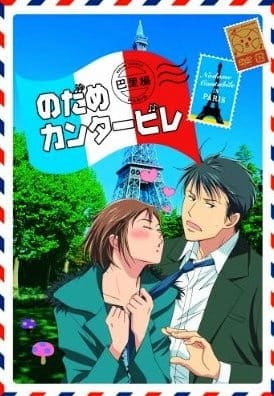 Aired: Oct 10, 2008 to Dec 19, 2008
Duration: 23 min. per ep.
Viewed: 22
Synonyms: Nodame Cantabile Paris Chapter, Nodame Cantabile Pari-hen, のだめカンタービレ 巴里編
Shinichi Chiaki conquers his fear of flying, and Megumi "Nodame" Noda's exceptional performance at a piano competition earns her an invitation to study at the prestigious Conservatoire de Paris. The pair go to Paris together to take the next step in their careers: Chiaki as a new rising conductor under the wing of the great maestro Franz von Stresemann, and Nodame as a pupil of the esteemed piano professor Charles Auclair. But, of course, the music world is much bigger than the two of them could have ever imagined. Chiaki and Nodame, alongside old friends and new rivals, must fight and persevere to reach the dazzling musical heights that await them while never losing sight of what matters most. [Written by MAL Rewrite]
Chiaki, Shinichi

Main

Noda, Megumi

Main

Auclair, Charles

Supporting

Beaudry, Lucas

Supporting

Benoit, Pierre de

Supporting

Chevalier, Roland

Supporting

Donnadieu, Jean

Supporting

Dubois, Paul

Supporting

Elise

Supporting

Emanuel

Supporting

Katahira, Hajime

Supporting

Kuroki, Yasunori

Supporting

Latoine, Frank

Supporting

Li, Yunlong

Supporting

Miyoshi, Seiko

Supporting

Miyoshi, Toshihiko

Supporting

Miyoshi, Takehiko

Supporting

Namiki, Yuuko

Supporting

Oliver

Supporting

Osada, Katsuhiro

Supporting
Comming soon!!! But still, you're very handsome.
Please comment for requesting this anime.