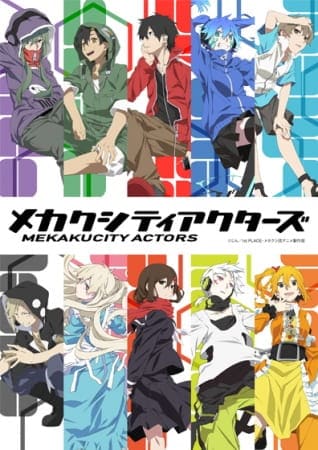 Aired: Apr 13, 2014 to Jun 29, 2014
Duration: 23 min. per ep.
Viewed: 715
Synonyms: MekakuCity Actors
On the hot summer day of August 14, Shintarou Kisaragi is forced to leave his room for the first time in two years. While arguing with the cyber girl Ene who lives in his computer, Shintarou Kisaragi accidentally spills soda all over his keyboard. Though they try to find a replacement online, most stores are closed due to the Obon festival, leaving them with no other choice but to visit the local department store. Venturing outside makes Shintarou extremely anxious, but the thought of living without his computer is even worse. It's just his luck that on the day he finally goes out, he's caught in a terrifying hostage situation. Luckily, a group of teenagers with mysterious eye powers, who call themselves the "Mekakushi Dan," assist Shintarou in resolving the situation. As a result, he is forced to join their group, along with Ene. Their abilities seem to be like pieces of a puzzle, connecting one another, and as each member's past is unveiled, the secret that ties them together is slowly brought to light. [Written by MAL Rewrite]
Enomoto, Takane

Main

Tateyama, Ayano

Main

Seto, Kousuke

Main

Kozakura, Mari

Main

Kokonose, Haruka

Main

Kisaragi, Momo

Main

Kisaragi, Shintarou

Main

Kido, Tsubomi

Main

Kano, Shuuya

Main

Amamiya, Hibiya

Main

Asahina, Hiyori

Supporting

Azami

Supporting

Kido, Rin

Supporting

Kozakura, Shion

Supporting

Me ga Saeru Hebi

Supporting

Tateyama, Kenjirou

Supporting

Tateyama, Ayaka

Supporting

Tsukihiko

Supporting
Because we are making use of some free resources to reduce the main server load, the player can be opened on another domain or showed as a new tab (you have to allow pop-up if you're not using Chrome).