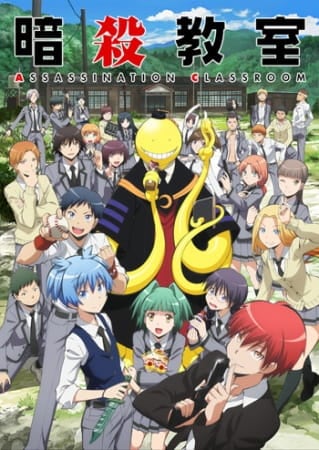 Aired: Jan 10, 2015 to Jun 20, 2015
Duration: 23 min. per ep.
Viewed: 460
Synonyms: Ansatsu Kyoushitsu
When a mysterious creature chops the moon down to a permanent crescent, the students of class 3-E of Kunugigaoka Middle School find themselves confronted with an enormous task: assassinate the creature responsible for the disaster before Earth suffers a similar fate. However, the monster, dubbed Koro-sensei (the indestructible teacher), is able to fly at speeds of up to Mach 20, which he demonstrates freely, leaving any attempt to subdue him in his extraterrestrial dust. Furthermore, the misfits of 3-E soon find that the strange, tentacled beast is more than just indomitable—he is the best teacher they have ever had! Adapted from the humorous hit manga by Yuusei Matsui, Ansatsu Kyoushitsu tells the story of these junior high pupils as they polish their assassination skills and grow in order to stand strong against the oppressive school system, their own life problems, and one day, Koro-sensei. [Written by MAL Rewrite]
Koro-sensei

Main

Shiota, Nagisa

Main

Akabane, Karma

Main

Takebayashi, Koutarou

Supporting

Muramatsu, Takuya

Supporting

Terasaka, Ryouma

Supporting

Terai, Kiyoshi

Supporting

Tanaka, Nobuta

Supporting

Seo, Tomoya

Supporting

Sakakibara, Ren

Supporting

Ryuuki

Supporting

Ritsu

Supporting

Red Eye

Supporting

Oono

Supporting

Okuda, Manami

Supporting

Okano, Hinata

Supporting

Okajima, Taiga

Supporting

Norita, Yuuji

Supporting

Nakamura, Rio

Supporting

Yukimura, Aguri

Supporting
Because we are making use of some free resources to reduce the main server load, the player can be opened on another domain or showed as a new tab (you have to allow pop-up if you're not using Chrome).