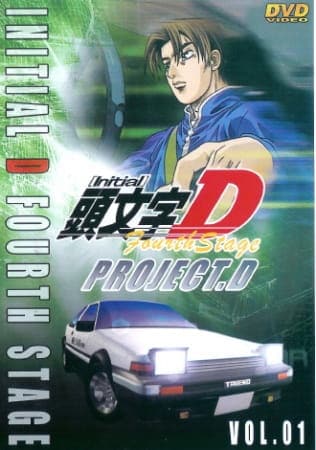 Aired: Apr 17, 2004 to Feb 18, 2006
Duration: 27 min. per ep.
Viewed: 28
Synonyms: Initial D 4th Stage, 頭文字〈イニシャル〉D FOURTH STAGE
Takumi Fujiwara and brothers Keisuke and Ryousuke Takahashi have formed "Project D," a racing team aimed at bringing their driving skills to their full potential outside their prefecture. Using the internet, Project D issues challenges to other racing teams and posts results of their races. Managed by Ryousuke, the team has Takumi engaging in downhill battles with his AE86, while Keisuke challenges opponents uphill. Among their rivals are the Seven-Star Leaf (SSR) and Todo-juku.
Takahashi, Keisuke

Main

Takahashi, Ryousuke

Main

Fujiwara, Takumi

Main

Todo

Supporting

Takeuchi, Itsuki

Supporting

Tachibana, Yuuichi

Supporting

Tachi, Tomoyuki

Supporting

Suzuki, Masashi

Supporting

Suetsugu, Tohru

Supporting

Sudou, Kyoichi

Supporting

Sakamoto

Supporting

Sakai

Supporting

Ninomiya, Daiki

Supporting

Nakamura, Kenta

Supporting

Mogi, Natsuki

Supporting

Matsumoto, Shuichi

Supporting

Kenji

Supporting

Kawai, Atsuro

Supporting

Joushima, Toushiya

Supporting

Iwase, Kyoko

Supporting
Comming soon!!! But still, you're very handsome.
Please comment for requesting this anime.