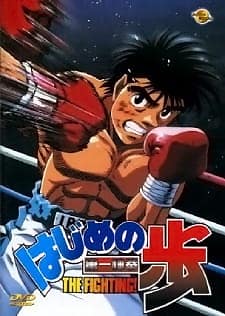 Aired: Oct 4, 2000 to Mar 27, 2002
Duration: 23 min. per ep.
Viewed: 38
Synonyms: Fighting Spirit, The First Step, Hajime no Ippo: The Fighting, はじめの一歩 THE FIGHTING!
Makunouchi Ippo has been bullied his entire life. Constantly running errands and being beaten up by his classmates, Ippo has always dreamed of changing himself, but never has the passion to act upon it. One day, in the midst of yet another bullying, Ippo is saved by Takamura Mamoru, who happens to be a boxer. Ippo faints from his injuries and is brought to the Kamogawa boxing gym to recover. As he regains consciousness, he is awed and amazed at his new surroundings in the gym, though lacks confidence to attempt anything. Takamura places a photo of Ippo's classmate on a punching bag and forces him to punch it. It is only then that Ippo feels something stir inside him and eventually asks Takamura to train him in boxing. Thinking that Ippo does not have what it takes, Takamura gives him a task deemed impossible and gives him a one week time limit. With a sudden desire to get stronger, for himself and his hard working mother, Ippo trains relentlessly to accomplish the task within the time limit. Thus Ippo's journey to the top of the boxing world begins. [Written by MAL Rewrite]
Kamogawa, Genji

Main

Kimura, Tatsuya

Main

Makunouchi, Ippo

Main

Takamura, Mamoru

Main

Aoki, Masaru

Main

Nekota, Ginpachi

Supporting

Sisfer, Jimmy

Supporting

New Japan Coach

Supporting

Naniwa Coach

Supporting

Ozuma, Jason

Supporting

Paudei, Runsaku

Supporting

Payao

Supporting

Ramuda, Ruslan

Supporting

Reiko

Supporting

Saeki, Takuma

Supporting

Sendo, Grandmother

Supporting

Sendo, Takeshi

Supporting

Shigeta, Akira

Supporting

Shinoda, Tomoyuki

Supporting

Morokot, Poon

Supporting
Comming soon!!! But still, you're very handsome.
Please comment for requesting this anime.