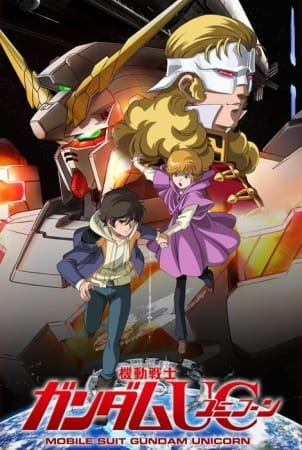 Aired: Mar 12, 2010 to Jun 6, 2014
Duration: 1 hr. 2 min. per ep.
Viewed: 12
Synonyms: Mobile Suit Gundam Unicorn
In the year Universal Century 0096, three years after Char Aznable's failed attempt to force human migration into space, life continues in the colonies orbiting Earth. One such colony, at Side 4, is home to Banagher Links, a 16-year-old who lives a quiet life among his classmates. Audrey Burne, the last descendant of a great tyrannical family, takes it upon herself to steal the key to a mysterious device known as "Laplace's Box." It is said that the Box has the power to shape the course of the universe, and Audrey travels to Side 4 in an attempt to take it from its current holder and keep it from the Sleeves, the surviving remnant of Char Aznable's Neo-Zeon. In her search, she stumbles across Banagher and changes his life forever. When Side 4 comes under the attack of the Sleeves and its prolific fighters Marida Cruz and Full Frontal, Banagher takes control of the newly built Gundam Unicorn to defend his friends and protect the fate of humankind. [Written by MAL Rewrite]
Links, Banagher

Main

Zabi, Mineva Lao

Main

Frontal, Full

Main

Vist, Syam

Supporting

Marcenas, Ronan

Supporting

Vist, Alberto

Supporting

Tomura

Supporting

Sant, Wife

Supporting

Sant, Gilboa

Supporting

Sant, Tikva

Supporting

Omoki, Sydow

Supporting

Oiwakken, Mihiro

Supporting

Noa, Bright

Supporting

Mitukale, Sercel

Supporting

Mitas, Otto

Supporting

Meran

Supporting

McGuinness, Daryl

Supporting

Marco

Supporting

Marcenas, Ricardo

Supporting

Zinnerman, Suberoa

Supporting
Because we are making use of some free resources to reduce the main server load, the player can be opened on another domain or showed as a new tab (you have to allow pop-up if you're not using Chrome).