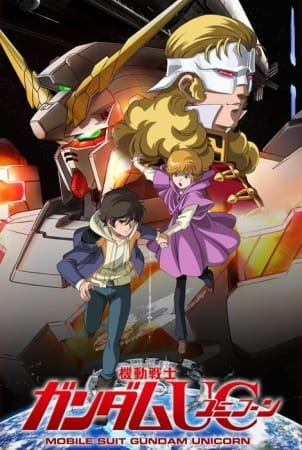 Aired: Mar 12, 2010 to Jun 6, 2014
Duration: 1 hr. 2 min. per ep.
Viewed: 3
Synonyms: Mobile Suit Gundam Unicorn, Mobile Suit Gundam UC, Kidou Senshi Gundam Unicorn, 機動戦士ガンダムUC(ユニコーン)
In the year Universal Century 0096, three years after Char Aznable's failed attempt to force human migration into space, life continues in the colonies orbiting Earth. One such colony, at Side 4, is home to Banagher Links, a 16-year-old who lives a quiet life among his classmates. Audrey Burne, the last descendant of a great tyrannical family, takes it upon herself to steal the key to a mysterious device known as "Laplace's Box." It is said that the Box has the power to shape the course of the universe, and Audrey travels to Side 4 in an attempt to take it from its current holder and keep it from the Sleeves, the surviving remnant of Char Aznable's Neo-Zeon. In her search, she stumbles across Banagher and changes his life forever. When Side 4 comes under the attack of the Sleeves and its prolific fighters Marida Cruz and Full Frontal, Banagher takes control of the newly built Gundam Unicorn to defend his friends and protect the fate of humankind. [Written by MAL Rewrite]
Frontal, Full

Main

Links, Banagher

Main

Zabi, Mineva Lao

Main

Bollard

Supporting

Borrinea, Liam

Supporting

Chan, Gael

Supporting

Converse, Helm

Supporting

Cruz, Marida

Supporting

Dawson, Hill

Supporting

Dennis

Supporting

Doillon, Douglas

Supporting

Esther

Supporting

Garrett, Nigel

Supporting

Garvey, Loni

Supporting

Gibney, Jonah

Supporting

Gorga, Galom

Supporting

Haagensen, Conroy

Supporting

Haro

Supporting

Hasan

Supporting

Homare

Supporting
Comming soon!!! But still, you're very handsome.
Please comment for requesting this anime.