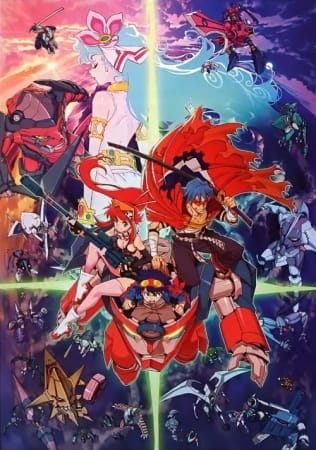 Animation studio Gainax presented a website for the release of a movie adaptation of the Tengen Toppa Gurren Lagann TV series in the fall of 2008. Both the original director and series script editor will return to work on the new project. Gainax will also be hosting four events to celebrate this occasion at this year's Tokyo International Anime Fair, featuring voice actors from the anime.
Synonyms: Tengen toppa gurren lagann – Guren-hen
Littner, Yoko

Main

Simon

Main

Teppelin, Nia

Main

Kamina

Main

Docker, Gabal

Supporting

Viral

Supporting

Guame

Supporting

Jokin, Makken

Supporting

Jokin, Leite

Supporting

Kanai, Zoushi

Supporting

Littner, Tetsukan

Supporting

Littner, Kiyoh

Supporting

Littner, Dayakka

Supporting

Littner, Leeron

Supporting

Lordgenome

Supporting

Old Coco

Supporting

Thymilph

Supporting

Cytomander

Supporting

Cortich, Attenborough

Supporting

Coega, Iraak

Supporting
Because we are making use of some free resources to reduce the main server load, the player can be opened on another domain or showed as a new tab (you have to allow pop-up if you're not using Chrome).