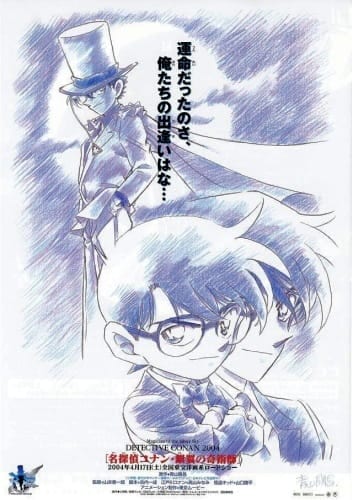 Aired: Apr 17, 2004
Duration: 1 hr. 48 min.
Viewed: 8
Synonyms: Detective Conan Movie 8 - Magician of the Silver Sky
Once again, Kaitou Kid crosses swords with Conan Edogawa in this annual installment of the Detective Conan movie franchise. After receiving a letter from the thief, famous actress Juri Maki seeks the help of private detective Kogorou Mouri to protect the Star Sapphire—the "Jewel of Destiny," said to represent faith, fate, and hope. Thinking he has deciphered Kid's riddle, Kogorou personally shows up to the newly constructed space theater where Juri is acting in the play "Josephine" in order to catch Kid in the act. The next day, Conan and the gang are invited by Juri to her holiday home, to celebrate the thwarting of Kid's plan and the success of the play. However, their triumph crumbles when a murder occurs during the flight there. Although unintentional, this sets off a series of events that escalate to catastrophic results. Conan and Kid, unlikely allies that they are, must work together to save both their friends and every other passenger aboard the plane. [Written by MAL Rewrite]
Kuroba, Kaito

Main

Mouri, Ran

Main

Mouri, Kogorou

Main

Edogawa, Conan

Main

Yoshida, Ayumi

Supporting

Yaguchi, Masayo

Supporting

Uesugi

Supporting

Tsuburaya, Mitsuhiko

Supporting

Takagi, Wataru

Supporting

Tajima, Tenko

Supporting

Suzuki, Sonoko

Supporting

Shiratori, Ninzaburou

Supporting

Shinjou, Isao

Supporting

Shimaoka

Supporting

Sakai, Natsuki

Supporting

Narusawa, Bunjirou

Supporting

Nakaya

Supporting

Nakamori, Ginzou

Supporting

Megure, Juuzou

Supporting

Maki, Juri

Supporting
Because we are making use of some free resources to reduce the main server load, the player can be opened on another domain or showed as a new tab (you have to allow pop-up if you're not using Chrome).