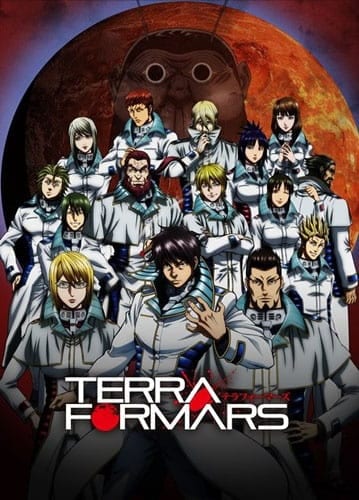 Aired: Sep 27, 2014 to Dec 20, 2014
Duration: 24 min. per ep.
Viewed: 281
Synonyms: Terra Formars
During the 21st century, humanity attempted to colonize Mars by sending two species which could endure the harsh environment of the planet to terraform it—algae and cockroaches. However, they did not anticipate the species' remarkable ability to adapt. Now in the 26th century, a lethal disease known as the Alien Engine Virus has arrived on Earth, and the cure is suspected to be found only on Mars. The problem is, Mars in the present is overrun by creatures known as "Terraformars," incredibly powerful and intelligent humanoid cockroaches that mutated from those originally sent to the planet. The Annex I team, consisting of a hundred men and women genetically enhanced with characteristics of powerful organisms from earth, has been sent to Mars on a mission to find the cause of the Alien Engine Virus and to help cure humanity—signalling the start of the crew's fight for survival. [Written by MAL Rewrite]
Davis, Michelle K.

Main

Eringrad Garcia, Marcos

Main

Hizamaru, Akari

Main

Kandley Stewart, Alex

Main

Komachi, Shoukichi

Main

Asimov, Sylvester

Main

Reinhardt, Rosa

Supporting

Jet

Supporting

Sanjou, Kanako

Supporting

Reinhardt, Adolf

Supporting

Yanasegawa, Yaeko

Supporting

Narrator

Supporting

Nakanojou, Erika

Supporting

Mirapix

Supporting

Minamoto, Yuriko

Supporting

Liu, Yiwu

Supporting

Levitt, Sheila

Supporting

Leon, Isabella R.

Supporting

Johann

Supporting

Yujik, Nina

Supporting
Because we are making use of some free resources to reduce the main server load, the player can be opened on another domain or showed as a new tab (you have to allow pop-up if you're not using Chrome).