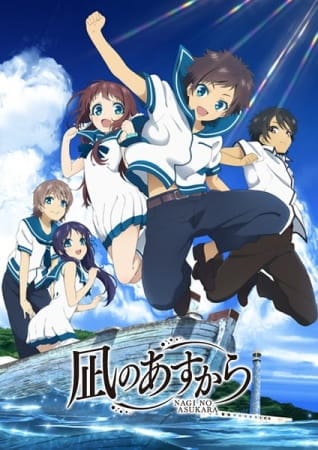 Aired: Oct 3, 2013 to Apr 3, 2014
Duration: 23 min. per ep.
Viewed: 70
Synonyms: Nagi no Asukara
Long ago, all humans lived beneath the sea. However, some people preferred the surface and abandoned living underwater permanently. As a consequence, they were stripped of their god-given protection called "Ena" which allowed them to breathe underwater. Over time, the rift between the denizens of the sea and of the surface widened, although contact between the two peoples still existed. Nagi no Asu kara follows the story of Hikari Sakishima and Manaka Mukaido, along with their childhood friends Chisaki Hiradaira and Kaname Isaki, who are forced to leave the sea and attend a school on the surface. There, the group also meets Tsumugu Kihara, a fellow student and fisherman who loves the sea. Hikari and his friends' lives are bound to change as they have to deal with the deep-seated hatred and discrimination between the people of sea and of the surface, the storms in their personal lives, as well as an impending tempest which may spell doom for all who dwell on the surface. [Written by MAL Rewrite]
Hisanuma, Sayu

Main

Isaki, Kaname

Main

Kihara, Tsumugu

Main

Mukaido, Manaka

Main

Sakishima, Hikari

Main

Shiodome, Miuna

Main

Hiradaira, Chisaki

Main

Sakishima, Akari

Supporting

Yanagi, Nakaya

Supporting

Sakishima, Tomoru

Supporting

Sayama, Father

Supporting

Sayama, Shun

Supporting

Seiki, Yuu

Supporting

Sensei

Supporting

Shiodome, Itaru

Supporting

Shiodome, Akira

Supporting

Shiodome, Miori

Supporting

Uroko

Supporting

Ojoshi

Supporting

Mukaido, Father

Supporting
Because we are making use of some free resources to reduce the main server load, the player can be opened on another domain or showed as a new tab (you have to allow pop-up if you're not using Chrome).