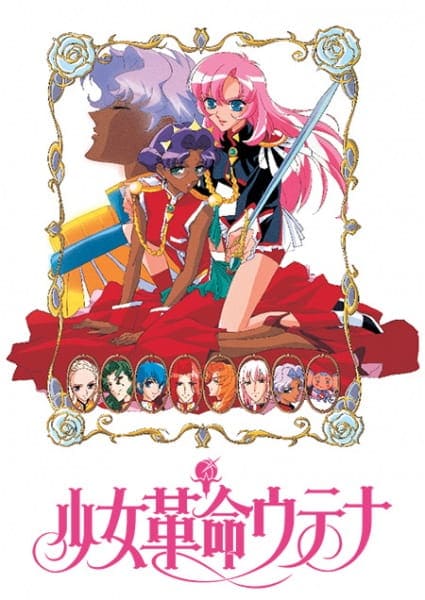 Aired: Apr 2, 1997 to Dec 24, 1997
Duration: 23 min. per ep.
Viewed: 24
Synonyms: Revolutionary Girl Utena, Shoujo Kakumei Utena, 少女革命ウテナ
After meeting a traveling prince who consoled her after the deaths of her parents, Utena Tenjou vowed to become a prince herself. The prince left Utena only with a ring bearing a strange rose crest and a promise that she would meet him again some day. A few years later, Utena attends Ootori Academy, where she is drawn into a dangerous game. Duelists with rings matching Utena's own compete for a unique prize: the Rose Bride, Anthy Himemiya, and her mysterious powers. When Utena wins Anthy in a duel, she realizes that if she is to free Anthy and discover the secrets behind Ootori Academy, she has only one option: to revolutionize the world. Shoujo Kakumei Utena blends surrealist imagery and ideas with complex allegories and metaphors to create a unique coming-of-age story with themes including idealism, illusions, adulthood, and identity. [Written by MAL Rewrite]
Himemiya, Anthy

Main

Tenjou, Utena

Main

A-ko

Supporting

Arisugawa, Juri

Supporting

B-ko

Supporting

C-ko

Supporting

Chida, Tokiko

Supporting

Chida, Mamiya

Supporting

Chuchu

Supporting

Dios

Supporting

Hozumi, Mari

Supporting

Kaoru, Kozue

Supporting

Kaoru, Miki

Supporting

Kazami, Tatsuya

Supporting

Kiryuu, Touga

Supporting

Kiryuu, Nanami

Supporting

Mikage, Souji

Supporting

Mrs. Ohtori

Supporting

Ootori, Kanae

Supporting

Ootori, Akio

Supporting
Comming soon!!! But still, you're very handsome.
Please comment for requesting this anime.