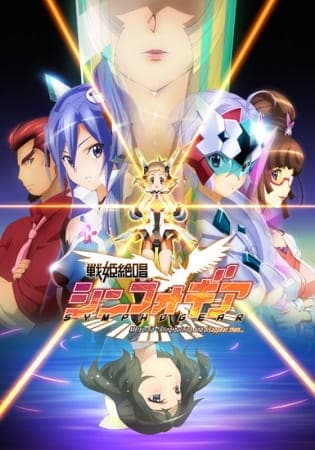 Aired: Jan 6, 2012 to Mar 30, 2012
Duration: 23 min. per ep.
Viewed: 21
Synonyms: Senki Zesshou Symphogear
Tsubasa Kazanari and Kanade Amou—the idol duo known as Zwei Wing—use their songs to power ancient weapons known as "symphogears" to combat a deadly alien race called the "Noise." While the general public is aware of the Noise's existence, knowledge of the symphogears are kept a secret. When the Noise attack one of Zwei Wing's concerts, Kanade sacrifices herself to protect a young girl named Hibiki Tachibana, leaving Tsubasa devastated and a fragment of her symphogear embedded within Hibiki. Two years pass and Hibiki is once again dragged into a Noise attack. While rescuing a young girl who has been left behind during the evacuation, she awakens the power of Kanade's symphogear lying within her. Although Tsubasa still grieves over the loss of Kanade, both girls must now learn to work together using their powers to defend humanity against the Noise. [Written by MAL Rewrite]
Tachibana, Hibiki

Main

Yukine, Chris

Main

Kazanari, Tsubasa

Main

Tomosato, Aoi

Supporting

Terashima, Shiori

Supporting

Sakurai, Ryouko

Supporting

Owner of Flower

Supporting

Ogawa, Shinji

Supporting

Kohinata, Miku

Supporting

Kazanari, Genjuurou

Supporting

Itaba, Yumi

Supporting

Homeroom Teacher

Supporting

Hiroki, Defense Minister

Supporting

Glazer, Tony

Supporting

Girl

Supporting

Fujitaka, Sakuya

Supporting

Andou, Kuriyo

Supporting

Amou, Kanade

Supporting
Because we are making use of some free resources to reduce the main server load, the player can be opened on another domain or showed as a new tab (you have to allow pop-up if you're not using Chrome).