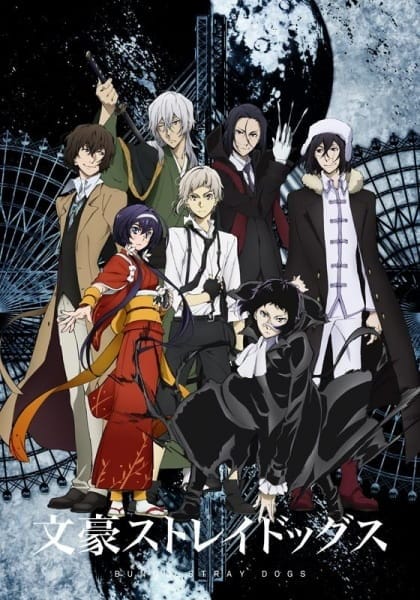 Aired: Apr 12, 2019 to Jun 28, 2019
Duration: 23 min. per ep.
Viewed: 77
Synonyms: Bungou Stray Dogs 3rd Season
Following the conclusion of the three-way organizational war, government bureaucrat Ango Sakaguchi recalls an event that transpired years ago, after the death of the former Port Mafia boss. Osamu Dazai, still a new recruit at the time, was tasked with investigating rumors related to a mysterious explosion that decimated part of the city years ago—and its connection to the alleged reappearance of the former boss. Due to circumstances out of his control, he is partnered with Chuuya Nakahara, the gifted yet impulsive leader of a rival clan known as the ''Sheep,'' to uncover the truth behind the case and shine a light on the myth of Arahabaki—the god of fire who might just lead Dazai to the case's solution. Meanwhile, in the present day, it is business as usual once again for the Armed Detective Agency. Their peaceful break will not last for long, however, as enemies old and new gather their strength and prepare for another face-off. [Written by MAL Rewrite]
Nakajima, Atsushi

Main

Dazai, Osamu

Main

Miyazawa, Kenji

Supporting

Yumeno, Kyuusaku

Supporting

Montgomery, Lucy Maud

Supporting

Mori, Ougai

Supporting

Nakahara, Chuuya

Supporting

Ozaki, Kouyou

Supporting

Poe, Edgar Allan

Supporting

Pushkin, Alexander

Supporting

Rando

Supporting

Sakaguchi, Ango

Supporting

Shirase

Supporting

Souseki, Natsume

Supporting

Tachihara, Michizou

Supporting

Tanizaki, Junichirou

Supporting

Tanizaki, Naomi

Supporting

Tayama, Katai

Supporting

Yosano, Akiko

Supporting

Yuan

Supporting
Because we are making use of some free resources to reduce the main server load, the player can be opened on another domain or showed as a new tab (you have to allow pop-up if you're not using Chrome).