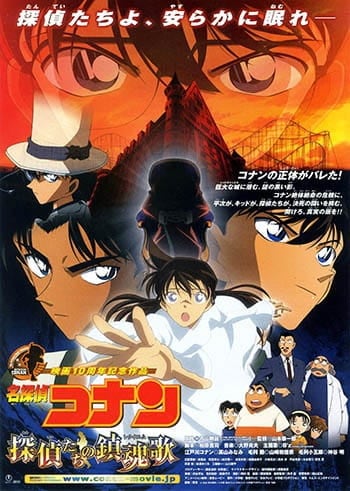 Aired: Apr 15, 2006
Duration: 1 hr. 51 min.
Viewed: 4
Synonyms: Detective Conan Movie 10 :The Private Eyes' Requiem
After receiving a strange invitation, Kogorou Mouri pays a visit to the Miracle Land theme park along with his daughter Ran, Conan Edogawa, and the Detective Boys. Once there, Kogorou and Conan are tasked with finishing an unsolved case by a mysterious stranger. Realizing that the invitations were actually an elaborate trap, the two have just 12 hours to solve the case or face grave danger. With the help of familiar faces like Heiji Hattori, Kaitou Kid, and even Saguru Hakuba, the group of detectives must unravel the web of clues surrounding the case in order to find the culprit and bring them to justice before it's too late. [Written by MAL Rewrite]
Hattori, Heiji

Main

Mouri, Ran

Main

Edogawa, Conan

Main

Mouri, Kogorou

Supporting

Yoshida, Ayumi

Supporting

Nakamori, Ginzou

Supporting

Oono

Supporting

Ootaki, Gorou

Supporting

Satou, Miwako

Supporting

Shimizu, Reiko

Supporting

Shiratori, Ninzaburou

Supporting

Suzuki, Sonoko

Supporting

Takada, Masao

Supporting

Takagi, Wataru

Supporting

Tooyama, Ginshirou

Supporting

Tooyama, Kazuha

Supporting

Tsuburaya, Mitsuhiko

Supporting

Yokomizo, Juugo

Supporting

Miyama, Souichirou

Supporting

Megure, Juuzou

Supporting
Because we are making use of some free resources to reduce the main server load, the player can be opened on another domain or showed as a new tab (you have to allow pop-up if you're not using Chrome).