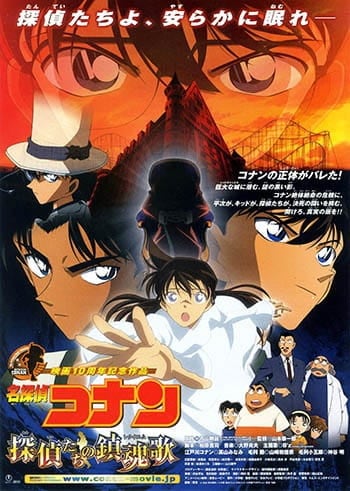 Aired: Apr 15, 2006
Duration: 1 hr. 51 min.
Viewed: 2
Synonyms: Meitantei Conan: Tantei-tachi no Requiem, The Private Eyes' Requiem, 名探偵コナン 探偵たちの鎮魂歌[レクイエム]
After receiving a strange invitation, Kogorou Mouri pays a visit to the Miracle Land theme park along with his daughter Ran, Conan Edogawa, and the Detective Boys. Once there, Kogorou and Conan are tasked with finishing an unsolved case by a mysterious stranger. Realizing that the invitations were actually an elaborate trap, the two have just 12 hours to solve the case or face grave danger. With the help of familiar faces like Heiji Hattori, Kaitou Kid, and even Saguru Hakuba, the group of detectives must unravel the web of clues surrounding the case in order to find the culprit and bring them to justice before it's too late. [Written by MAL Rewrite]
Edogawa, Conan

Main

Hattori, Heiji

Main

Mouri, Ran

Main

Yokomizo, Juugo

Supporting

Yoshida, Ayumi

Supporting

Achiya, Ryuu

Supporting

Agasa, Hiroshi

Supporting

Chiba, Kazunobu

Supporting

Fortune Teller

Supporting

Haibara, Ai

Supporting

Hakuba, Saguru

Supporting

Hattori, Heizou

Supporting

Itou, Suehiko

Supporting

Kazu

Supporting

Kisaki, Eri

Supporting

Kojima, Genta

Supporting

Kuriyama, Midori

Supporting

Kuroba, Kaito

Supporting

Megure, Juuzou

Supporting

Miyama, Souichirou

Supporting
Comming soon!!! But still, you're very handsome.
Please comment for requesting this anime.