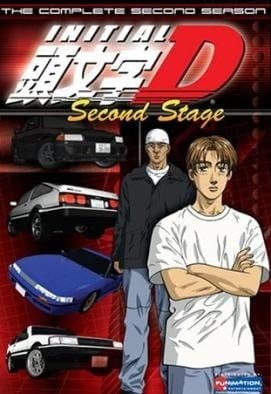 Aired: Oct 15, 1999 to Jan 21, 2000
Duration: 23 min. per ep.
Viewed: 55
Synonyms: Initial D: Second Stage
Following his victory over RedSuns leader Ryosuke Takahashi, AE86 driver Takumi Fujiwara is challenged by the Lancer EVO-based "Emperor," a group known for taking decals of racing teams they defeat, cutting them up and placing them on their cars like a fighter plane kill board. Takumi's undefeated streak is on the line as his AE86 is virtually no match against the more powerful and more agile four-wheel-drive EVOs of the Emperor team. (Source: ANN)
Fujiwara, Takumi

Main

Nakamura, Kenta

Supporting

Takeuchi, Itsuki

Supporting

Takahashi, Keisuke

Supporting

Takahashi, Ryousuke

Supporting

Tachibana, Yuuichi

Supporting

Suzuki, Masashi

Supporting

Sudou, Kyoichi

Supporting

Shouji, Shingo

Supporting

Papa

Supporting

Nakazato, Takeshi

Supporting

Mogi, Natsuki

Supporting

Kenji

Supporting

Iwaki, Seiji

Supporting

Iketani, Kouichirou

Supporting

Fumihiro, Hiroshi

Supporting

Fujiwara, Bunta

Supporting

Akiyama, Kazumi

Supporting

Akiyama, Wataru

Supporting
Because we are making use of some free resources to reduce the main server load, the player can be opened on another domain or showed as a new tab (you have to allow pop-up if you're not using Chrome).