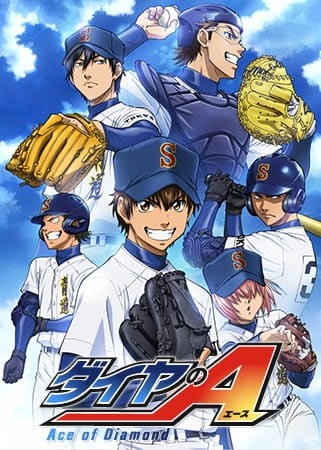 Aired: Oct 6, 2013 to Mar 29, 2015
Duration: 24 min. per ep.
Viewed: 46
Synonyms: Ace of Diamond, Daiya no Ace, Ace of the Diamond, Dia no A, ダイヤのA[エース]
With a stray pitch that completely missed the batter, Eijun Sawamura loses his final middle school baseball game. Frustrated by this defeat, Eijun and his teammates vow to reach the national tournament once they are in high school. But everything changes when a scout unexpectedly invites him to Tokyo's prestigious Seidou High School after seeing the potential in his unusual pitching style. Encouraged by his teammates, Eijun accepts the offer, ready to improve his skills and play at a much more competitive level of baseball. However, now surrounded by a large number of skilled players, Eijun struggles to find his place on the team. He declares that he will one day become the team's ace, but that's only if fellow first year Satoru Furuya doesn't take the title first, with his breakneck fastballs that earn him a coveted spot on the starting roster. With the addition of these talented new players to an already powerful lineup, the Seidou baseball team aims to become the best in Japan, facing off against a number of formidable foes that stand in their way. [Written by MAL Rewrite]
Furuya, Satoru

Main

Kominato, Haruichi

Main

Miyuki, Kazuya

Main

Sawamura, Eijun

Main

Tahara, Toshihiko

Supporting

Takahiro, Matsumoto

Supporting

Takashima, Rei

Supporting

Takemoto, Atushi

Supporting

Takigawa, Chris Yuu

Supporting

Tanaka, Shin

Supporting

Tanba, Kouichirou

Supporting

Tanokura

Supporting

Akiba, Kazuma

Supporting

Todoroki, Raizou

Supporting

Akio

Supporting

Todoroki, Raichi

Supporting

Animal M., J.

Supporting

Toujou, Hideaki

Supporting

Aotsuki, Wakana

Supporting

Ugai, Kazuyoshi

Supporting
Comming soon!!! But still, you're very handsome.
Please comment for requesting this anime.