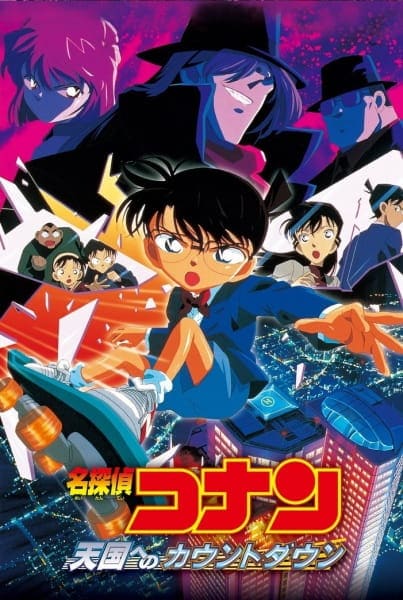 Aired: Apr 21, 2001
Duration: 1 hr. 40 min.
Viewed: 22
Synonyms: Detective Conan Movie 5 – Countdown to Heaven
Conan Edogawa, the Detective Boys, and Professor Hiroshi Agasa decide to visit the Nishitamashi Twin Towers. There they run into Ran Mouri; her closest friend, Sonoko Suzuki, and Ran's father, the famous Kogorou Mouri. Learning the trio are attending the towers' grand opening, Conan and company tag along for a private tour of its floors. However, as preparations are finalized for the opening ceremony, their visit takes an unexpected turn—three brutal murders occur, seemingly linked to a mysterious Porsche 356A. Soon after, as Conan and the detectives dive deeper into the case, the towers are rocked by an explosion. With fire rapidly spreading and lives in danger, police desperately seek to evacuate everyone. But when the elevator, their only means to escape goes down, Conan and company are left behind. With help on its way, they frantically try to keep everyone safe, but time is running out if they want to bring the perpetrators to justice. [Written by MAL Rewrite]
Haibara, Ai

Main

Kojima, Genta

Main

Mouri, Ran

Main

Mouri, Kogorou

Main

Tsuburaya, Mitsuhiko

Main

Yoshida, Ayumi

Main

Edogawa, Conan

Main

Vodka

Supporting

Tsukamoto, Hajime

Supporting

Tome

Supporting

Tokiwa, Mio

Supporting

Takagi, Wataru

Supporting

Suzuki, Sonoko

Supporting

Shiratori, Ninzaburou

Supporting

Sawaguchi, Chinami

Supporting

Oki, Iwamatsu

Supporting

Miyano, Akemi

Supporting

Megure, Juuzou

Supporting

Kisaragi, Housui

Supporting

Kazama, Hidehiko

Supporting
Because we are making use of some free resources to reduce the main server load, the player can be opened on another domain or showed as a new tab (you have to allow pop-up if you're not using Chrome).