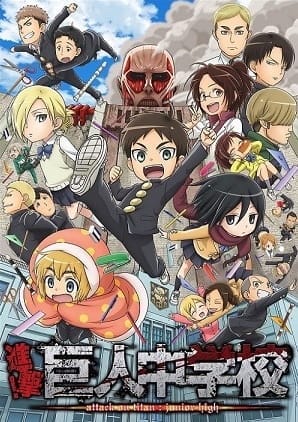 Aired: Oct 4, 2015 to Dec 20, 2015
Duration: 17 min. per ep.
Viewed: 102
Synonyms: Shingeki! Kyojin Chuugakkou
On his first day of junior high, Eren Yeager comes face-to-face with a titan—and has his lunch stolen! From that day on, he holds a grudge against titans for taking his favorite food from him, a cheeseburger, vowing to eliminate their kind once and for all. Along with his adoptive sister Mikasa Ackerman and their friend Armin Arlert, the trio traverse the halls of Titan Junior High, encountering familiar faces and participating in various extracurricular activities as part of the Wall Cleanup Club. A parody of the immensely popular parent series, Shingeki! Kyojin Chuugakkou places beloved characters as junior high school students, fighting to protect their lunches from gluttonous titans. [Written by MAL Rewrite]
Arlert, Armin

Main

Yeager, Eren

Main

Ackerman, Mikasa

Main

Langnar, Ilse

Supporting

Zoë, Hange

Supporting

Lenz, Krista

Supporting

Leonhart, Annie

Supporting

Levi

Supporting

Ness, Dita

Supporting

Ral, Petra

Supporting

Reiss, Frieda

Supporting

Samuel

Supporting

Schultz, Gunther

Supporting

Shardis, Keith

Supporting

Smith, Erwin

Supporting

Springer, Connie

Supporting

Verman, Kitts

Supporting

Wagner, Thomas

Supporting

Yeager, Carla

Supporting

Ymir

Supporting
Because we are making use of some free resources to reduce the main server load, the player can be opened on another domain or showed as a new tab (you have to allow pop-up if you're not using Chrome).