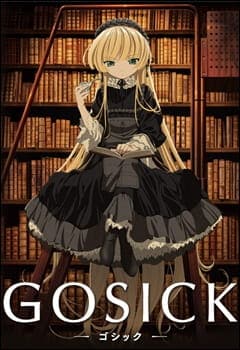 Aired: Jan 8, 2011 to Jul 2, 2011
Duration: 24 min. per ep.
Viewed: 69
Synonyms: GOSICK -ゴシック-
Kazuya Kujou is a foreign student at Saint Marguerite Academy, a luxurious boarding school in the Southern European country of Sauville. Originally from Japan, his jet-black hair and dark brown eyes cause his peers to shun him and give him the nickname "Black Reaper," based on a popular urban legend about the traveler who brings death in the spring. On a day like any other, Kujou visits the school's extravagant library in search of ghost stories. However, his focus soon changes as he becomes curious about a golden strand of hair on the stairs. The steps lead him to a large garden and a beautiful doll-like girl known as Victorique de Blois, whose complex and imaginative foresight allows her to predict their futures, now intertwined. With more mysteries quickly developing—including the appearance of a ghost ship and an alchemist with the power of transmutation—Victorique and Kujou, bound by fate and their unique skills, have no choice but to rely on each other. [Written by MAL Rewrite]
de Blois, Victorique

Main

Kujou, Kazuya

Main

Roxanne

Supporting

Sergius

Supporting

Sophie

Supporting

The Orphan

Supporting

Theodore

Supporting

Wong, Kai

Supporting

Alan

Supporting

Ambrose

Supporting

Anastasia

Supporting

Arbogast, Mildred

Supporting

Baxter, Ned

Supporting

Bradley, Avril

Supporting

de Blois, Albert

Supporting

de Blois, Grevil

Supporting

de Gille, Rupert

Supporting

de Signore

Supporting

de Signore, Jacqueline

Supporting

Derek

Supporting
Comming soon!!! But still, you're very handsome.
Please comment for requesting this anime.