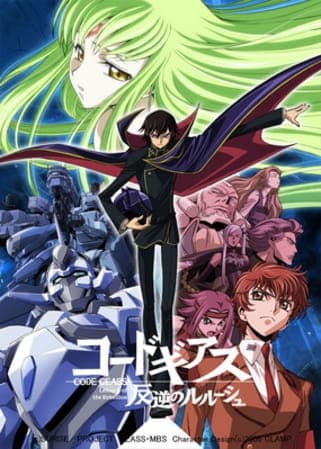 Aired: Oct 6, 2006 to Jul 29, 2007
Duration: 24 min. per ep.
Viewed: 1712
Synonyms: Code Geass: Lelouch of the Rebellion
In the year 2010, the Holy Empire of Britannia is establishing itself as a dominant military nation, starting with the conquest of Japan. Renamed to Area 11 after its swift defeat, Japan has seen significant resistance against these tyrants in an attempt to regain independence. Lelouch Lamperouge, a Britannian student, unfortunately finds himself caught in a crossfire between the Britannian and the Area 11 rebel armed forces. He is able to escape, however, thanks to the timely appearance of a mysterious girl named C.C., who bestows upon him Geass, the "Power of Kings." Realizing the vast potential of his newfound "power of absolute obedience," Lelouch embarks upon a perilous journey as the masked vigilante known as Zero, leading a merciless onslaught against Britannia in order to get revenge once and for all. [Written by MAL Rewrite]
Kururugi, Suzaku

Main

Lamperouge, Lelouch

Main

Stadtfeld, Kallen

Main

C.C.

Main

vi Britannia, Marianne

Supporting

Li, Xingke

Supporting

V.V.

Supporting

Urabe, Kousetsu

Supporting

Sawazaki, Atsushi

Supporting

S. Darlton, Claudio

Supporting

Ried, Diethard

Supporting

Ougi, Kaname

Supporting

Nu, Villetta

Supporting

Nagata

Supporting

N. Darlton, Edgar

Supporting

Minami, Yoshitaka

Supporting

Mao

Supporting

li Britannia, Cornelia

Supporting

li Britannia, Euphemia

Supporting

zi Britannia, Charles

Supporting
Because we are making use of some free resources to reduce the main server load, the player can be opened on another domain or showed as a new tab (you have to allow pop-up if you're not using Chrome).