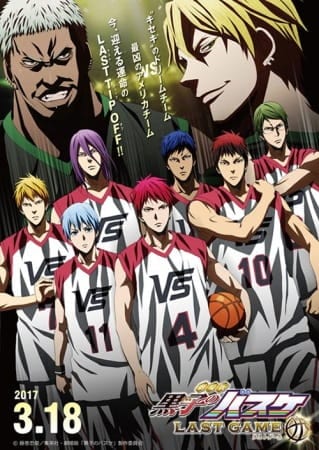 Aired: Mar 18, 2017
Duration: 1 hr. 30 min.
Viewed: 5
Synonyms: Gekijouban Kuroko no Basuke: Last Game, Kuroko's Basketball the Movie: Last Game, 劇場版 黒子のバスケ LAST GAME
Hailing from America, Jabberwock—a street basketball team with skills comparable to those of the NBA—has come to Japan to play an exhibition match against Strky, a team of former third-year students who once played in the Interhigh and Winter Cup. However, due to the vast difference in skill, Jabberwock easily wins. Their captain, Nash Gold Jr., mocks the basketball style of all players in Japan by comparing them to monkeys. Infuriated by the nasty comment, Kagetora Aida challenges them to a revenge match. Because of pride and the belief that the results will be no different, Nash accepts the challenge. Kagetora then assembles Vorpal Swords, a team composed of the Generation of Miracles, including Kuroko Tetsuya and Kagami Taiga, for they are the only ones who stand a chance against a foe that seems unbeatable from every angle. [Written by MAL Rewrite]
Aomine, Daiki

Main

Kagami, Taiga

Main

Kise, Ryouta

Main

Kuroko, Tetsuya

Main

Midorima, Shintarou

Main

Murasakibara, Atsushi

Main

Akashi, Seijuurou

Main

Kiyoshi, Teppei

Supporting

Zack

Supporting

Koganei, Shinji

Supporting

Liu, Wei

Supporting

Mayuzumi, Chihiro

Supporting

Mibuchi, Reo

Supporting

Miyaji, Kiyoshi

Supporting

Momoi, Satsuki

Supporting

Nebuya, Eikichi

Supporting

Nick

Supporting

Okamura, Kenichi

Supporting

Sakurai, Ryou

Supporting

Silver, Jason

Supporting
Comming soon!!! But still, you're very handsome.
Please comment for requesting this anime.