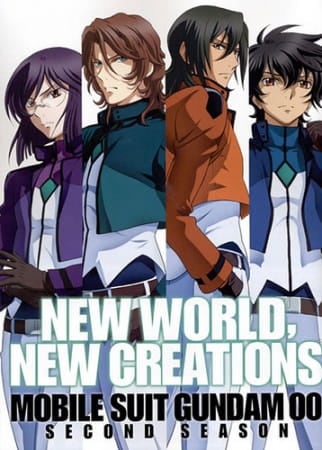 Aired: Oct 5, 2008 to Mar 29, 2009
Duration: 24 min. per ep.
Viewed: 19
Synonyms: Mobile Suit Gundam 00 S2
In the year 2311 AD, a world that once saw itself full of inter-continental conflict now stands unified, led by the Earth Sphere Federation (ESF). The ESF established a preventative military task force known as the A-Laws, tasking them with shutting down violent terrorist organizations. As they gain more and more legal authority, the A-Laws begin to twist the law to fit their own agenda, ruling the citizens of Earth with a heavy hand. In response to the fascistic behavior of the A-Laws, the anti-terrorist group Celestial Being reappears. Led by state-of-the-art mobile suits known as Gundam, the pilots of Celestial Being wage a new war with the A-Laws, aiming to stop their tyrannical abuse of power. Setsuna F. Seiei, pilot of the Gundam Exia, helps to lead the charge along with his fellow Gundam Meisters Lockon Stratos, Allelujah Haptism, and Tieria Erde. But in the process, Setsuna stumbles upon a conspiratorial plot spearheaded by a new faction, the Innovators, and must contend with his own old wounds and ghosts of the past in order to save a world that despises him. [Written by MAL Rewrite]
Erde, Tieria

Main

Haptism, Allelujah

Main

Seiei, Setsuna F.

Main

Stratos, Lockon

Main

Almark, Ribbons

Main

Smirnov, Andrei

Supporting

Liu Mei, Wang

Supporting

Trinity, Nena

Supporting

Stabity, Bring

Supporting

Vashti, Linda

Supporting

Revival, Revive

Supporting

Returner, Anew

Supporting

Regetta, Regene

Supporting

Peries, Soma

Supporting

Nova, Divine

Supporting

Miyasaka, Eddie

Supporting

Mannequin, Kati

Supporting

Mahal

Supporting

Long, Hong

Supporting

Zinin, Barack

Supporting
Because we are making use of some free resources to reduce the main server load, the player can be opened on another domain or showed as a new tab (you have to allow pop-up if you're not using Chrome).