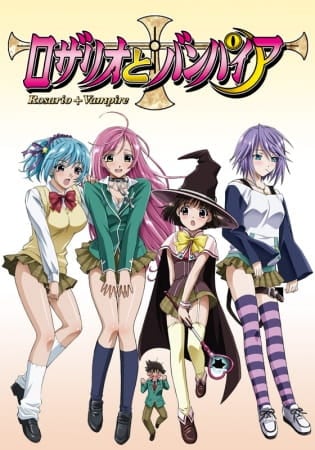 Aired: Jan 3, 2008 to Mar 27, 2008
Duration: 25 min. per ep.
Viewed: 810
Synonyms: Rosario to Vampire
Youkai Academy is a seemingly normal boarding school, except that its pupils are monsters learning to coexist with humans. All students attend in human form and take normal academic subjects, such as literature, gym, foreign language, and mathematics. However, there is one golden rule at Youkai Academy—all humans found on school grounds are to be executed immediately! Tsukune Aono is an average teenager who is unable to get into any high school because of his bad grades. His parents inadvertently enroll him into Youkai Academy as a last-ditch effort to secure his education. As Tsukune unknowingly enters this new world, he has a run-in with the most attractive girl on campus, Moka Akashiya. Deciding to stay in the perilous realm in order to further his relationship with Moka, he does not realize that beneath her beauty lies a menacing monster—a vampire. Rosario to Vampire is a supernatural school comedy that explores Tsukune's romantic exploits, experiences, and misadventures with a bevy of beautiful but dangerous creatures. [Written by MAL Rewrite]
Aono, Tsukune

Main

Kurono, Kurumu

Main

Sendou, Yukari

Main

Shirayuki, Mizore

Main

Akashiya, Moka

Main

Wanibuchi, Tadashi

Supporting

Toujou, Ruby

Supporting

Ten no Koe (Narrator)

Supporting

Sendou, Fujiko

Supporting

Oyakata

Supporting

Oniyama, Tonko

Supporting

Nekonome, Shizuka

Supporting

Morioka, Ginei

Supporting

Mizuno, Sumae

Supporting

Mikogami, Tenmei

Supporting

Kuyou

Supporting

Koumori, Nazo

Supporting

Kotsubo, Okuto

Supporting

Komiya, Saizou

Supporting

Keito

Supporting
Because we are making use of some free resources to reduce the main server load, the player can be opened on another domain or showed as a new tab (you have to allow pop-up if you're not using Chrome).