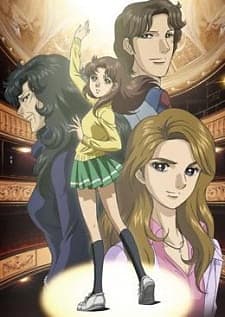 Aired: Apr 6, 2005 to Mar 29, 2006
Duration: 25 min. per ep.
Viewed: 58
Synonyms: Glass no Kamen (2005)
Two Girls. One Dream. And the entire world for a stage. At 13 years old, Maya Kitajima seems destined to spend the rest of her life toiling in a crowded restaurant alongside her bitter and unstable mother. But when her incredible acting talent is discovered by the legendary diva Chigusa Tsukikage, Maya finds a new future filled with both golden opportunities and terrifying risks. For Ayumi Himekawa, success has always been assured, yet she longs to be recognized for her own talents and skills, not her famous parents' connections. For both, the ultimate prize is the role of The Crimson Goddess in the play of the same name, a part created by Chigusa. To achieve this goal, both Maya and Ayumi must seek out and conquer every acting challenge, pushing the limits of their talent and endurance to the utmost, until they are worthy of the part… But for one to win, the other must fail! (Source: Sentai Filmworks)
Himekawa, Ayumi

Main

Kitajima, Maya

Main

Hayami, Masumi

Main

Tsukikage, Chigusa

Supporting

Takamiya, Shiori

Supporting

Tabuchi, Emi

Supporting

Sawatari, Mina

Supporting

Satomi, Shigeru

Supporting

Sakurakouji, Yuu

Supporting

Otobe, Norie

Supporting

Onodera, Hajime

Supporting

Narrator

Supporting

Mizuki, Saeko

Supporting

Minomiya, Keiko

Supporting

Minazuki, Sayaka

Supporting

Majima, Ryo

Supporting

Kuronuma, Ryuuzou

Supporting

Kobayashi, Genzou

Supporting

Kitajima, Haru

Supporting

Kasuga, Taiko

Supporting
Because we are making use of some free resources to reduce the main server load, the player can be opened on another domain or showed as a new tab (you have to allow pop-up if you're not using Chrome).