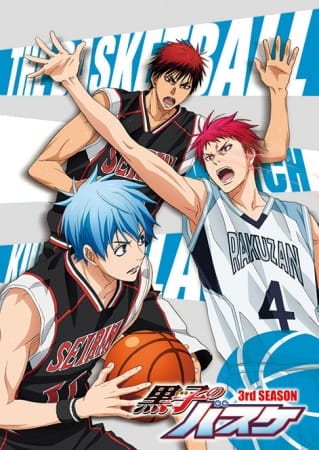 Aired: Dec 24, 2015
Duration: 23 min.
Viewed: 14
Synonyms: Kuroko's Basketball: It's the Best Present, Kuroko no Basket Episode 75.5, 黒子のバスケ ~最高のプレゼントです~
A few weeks after the Winter Cup, the five players of the Generation of Miracles as well as Kuroko have settled back into everyday life. But an invitation from Momoi arrives, proposing that the former Teikou Junior High players gather once again and play a game. Kuroko happily accepts the unexpected invitation. But Kagami is bothered when he learns about the game, because on that day, the Seirin High team was planning a birthday party for Kuroko! However, Kagami tells Kuroko that the birthday party won't be until the evening, which makes him glad. So on January 31st, Kuroko's best day begins! (Source: ANN)
Akashi, Seijuurou

Main

Aomine, Daiki

Main

Kagami, Taiga

Main

Kise, Ryouta

Main

Kuroko, Tetsuya

Main

Midorima, Shintarou

Main

Momoi, Satsuki

Main

Murasakibara, Atsushi

Main

Aida, Riko

Supporting

Himuro, Tatsuya

Supporting

Hyuuga, Junpei

Supporting

Izuki, Shun

Supporting

Kiyoshi, Teppei

Supporting

Takao, Kazunari

Supporting
Comming soon!!! But still, you're very handsome.
Please comment for requesting this anime.