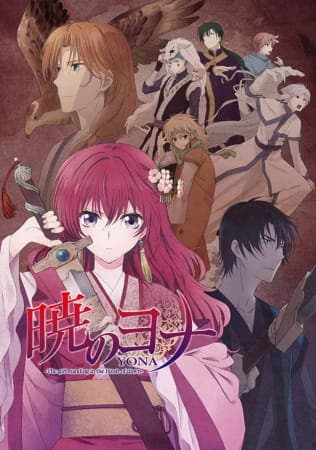 Aired: Oct 7, 2014 to Mar 24, 2015
Duration: 24 min. per ep.
Viewed: 342
Synonyms: Akatsuki no Yona
Princess Yona lives a life of luxury and ease, completely sheltered from the problems of the seemingly peaceful Kingdom of Kouka; however, the sudden murder of the king and betrayal of her beloved cousin Su-won places Yona's life in mortal peril. Forced to escape only with Son Hak, who is both her childhood friend and bodyguard, the naïve princess soon discovers that Kouka is not the idyllic place she envisioned it to be. Poverty, strife, and corruption run rampant, making reclaiming the throne nothing more than a wishful fantasy given the kingdom's current state. Based on the popular manga of the same name by Mizuho Kusanagi, Akatsuki no Yona follows Princess Yona on a coming-of-age adventure as she faces the harsh realities of her kingdom. With only a mysterious legend to guide her, Yona must discover a way to restore Kouka to its former glory while being pursued relentlessly by the forces of the new King of Kouka. [Written by MAL Rewrite]
Because we are making use of some free resources to reduce the main server load, the player can be opened on another domain or showed as a new tab (you have to allow pop-up if you're not using Chrome).