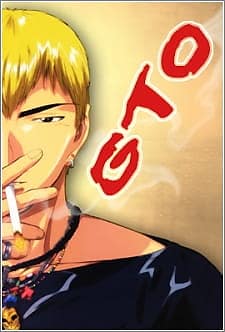 Aired: Jun 30, 1999 to Sep 17, 2000
Duration: 25 min. per ep.
Viewed: 2024
Synonyms: Great Teacher Onizuka
Onizuka is a reformed biker gang leader who has his sights set on an honorable new ambition: to become the world's greatest teacher... for the purpose of meeting sexy high school girls. Okay, so he's mostly reformed. However, strict administrators and a class of ruthless delinquents stand between Onizuka and his goal and they will use any means, however illegal or low, to drive the new teacher away. Perfect, because Onizuka's methods won't be found in any teaching manual; he cares about the difference between legal and illegal activities about as much as he cares for the age difference between himself and a high school girl. So get ready for math that doesn't add up, language you'd be slapped for using, and biology that would make a grown man blush... unless of course, you're the Great Teacher Onizuka. [Written by MAL Rewrite]
Fuyutsuki, Azusa

Main

Kanzaki, Urumi

Main

Kikuchi, Yoshito

Main

Murai, Kunio

Main

Nomura, Tomoko

Main

Onizuka, Eikichi

Main

Uchiyamada, Hiroshi

Main

Yoshikawa, Noboru

Main

Aizawa, Miyabi

Main

Ohashi, Motoko

Supporting

Saito, Noboru

Supporting

Ohsawa, Hidero

Supporting

Okinoshima, Ichiro

Supporting

Oota, Tooru

Supporting

Oota, Chizuru

Supporting

Reporter

Supporting

Miss Sagara

Supporting

Saejima, Toshiyuki

Supporting

Oota, Hidemi

Supporting

Radio announcer

Supporting
Because we are making use of some free resources to reduce the main server load, the player can be opened on another domain or showed as a new tab (you have to allow pop-up if you're not using Chrome).