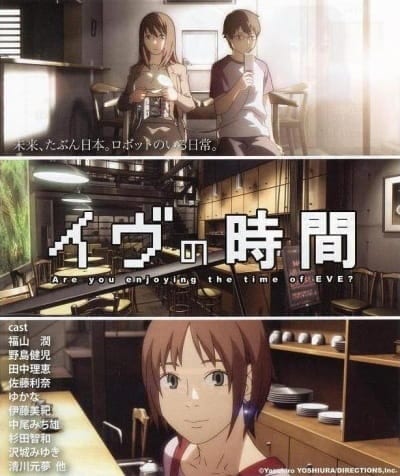 Aired: Aug 1, 2008 to Sep 18, 2009
Duration: 18 min. per ep.
Viewed: 26
Synonyms: Eve no Jikan
In future Japan, in a time when android housekeepers have become commonplace, society strictly abides by the Three Laws of Robotics, which all androids must follow. Under the influence of the Robot Ethics Committee, androids are treated the same way as lesser technology, such as household appliances. However, a minority with an adoration for androids exists, categorized as "android-holics," and are shunned by the general public. Rikuo Sakisaka was raised to accept society's precept about androids, and is perfectly aware that they are not human. That is, until the day he discovers a strange message buried within the activity logs of his household android, Sammy. This leads him to Eve no Jikan, a cafe with only one rule that its patrons must adhere to: there must be no distinction made between humans and androids. Curiosity drives Rikuo to learn more about the shop, and he attempts to unearth the reason behind Sammy's peculiar behavior. [Written by MAL Rewrite]
Because we are making use of some free resources to reduce the main server load, the player can be opened on another domain or showed as a new tab (you have to allow pop-up if you're not using Chrome).