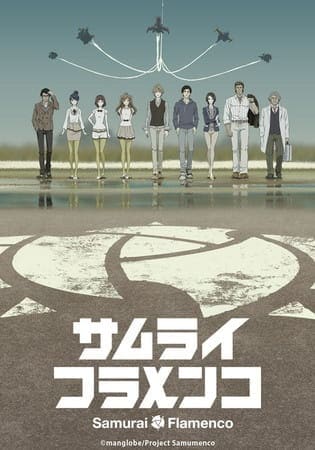 Aired: Oct 11, 2013 to Mar 28, 2014
Duration: 23 min. per ep.
Viewed: 148
Synonyms: Samurai Flamenco
"A hero will never give up, never hide, never be defeated and never accept evil!" Firmly believing these words, Masayoshi Hazama has been obsessed with superhero shows since childhood. By day, he earns his living as a famous model, and by night, he becomes the gallant hero Samurai Flamenco. Armed with only his superhero costume, he seeks to bring justice to the city and faces anybody who tries to break the law—even rebellious juveniles and people who litter on the street. Masayoshi's heroic antics later catch the attention of the public, leading to the fateful discovery of his identity by policeman Hidenori Gotou. Although initially telling Masayoshi to leave the crime-busting activities to the police, Gotou ends up joining him in his antics. However, things soon escalate from preventing littering and petty thefts to bizarre adventures that involve even the fate of the world. Together with their newfound comrades, Masayoshi and Gotou embark on a battle with the world and themselves in order to find the true meaning of being a hero—with or without superpowers. [Written by MAL Rewrite]
Hazama, Masayoshi

Main

Gotou, Hidenori

Main

Tesseract

Supporting

Sawada, Haiji

Supporting

Rhino, Boiling

Supporting

Morita, Moe

Supporting

Momoi, Sakura

Supporting

Miyamoto, Musashi

Supporting

Misawa, Mizuki

Supporting

Midorikawa, Hekiru

Supporting

Maya, Mari

Supporting

Kuroki, Anji

Supporting

Konno, Akira

Supporting

King Torture

Supporting

Kaname, Jouji

Supporting

Ishihara, Sumi

Supporting

Harazuka, Jun

Supporting

Harakiri, Sunshine

Supporting

Gorilla, Guillotine

Supporting

Flamenco, Alien

Supporting
Because we are making use of some free resources to reduce the main server load, the player can be opened on another domain or showed as a new tab (you have to allow pop-up if you're not using Chrome).