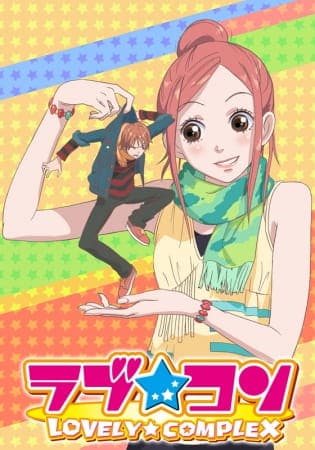 Aired: Apr 7, 2007 to Sep 29, 2007
Duration: 24 min. per ep.
Viewed: 2736
Synonyms: Lovely Complex
Love is unusual for Koizumi Risa and Ootani Atsushi, who are both striving to find their ideal partner in high school—172 cm tall Koizumi is much taller than the average girl, and Ootani is much shorter than the average guy at 156 cm. To add to their plights, their crushes fall in love with each other, leaving Koizumi and Ootani comically flustered and heartbroken. To make matters worse, they're even labeled as a comedy duo by their homeroom teacher due to their personalities and the stark difference in their heights, and their classmates even think of their arguments as sketches. Lovely★Complex follows Koizumi and Ootani as they encourage each other in finding love and become close friends. Apart from their ridiculous antics, they soon find out an unexpected similarity in their music and fashion tastes. Maybe they possess a chemistry yet unknown, but could love ever bloom between the mismatched pair? [Written by MAL Rewrite]
Ootani, Atsushi

Main

Koizumi, Risa

Main

Yoshioka, Mimi

Supporting

Umibouzu

Supporting

Tanaka, Chiharu

Supporting

Suzuki, Ryouji

Supporting

Risa's Mother

Supporting

Risa's Father

Supporting

Ootani's Mother

Supporting

Ootani's Sister

Supporting

Nakao, Heikichi

Supporting

Nakano, Kiyoji

Supporting

Nakahara

Supporting

Matsubara, Kazuko

Supporting

Kuniumi, Maitake

Supporting

Kotobuki, Seishiro

Supporting

Koizumi, Takato

Supporting

Kohori, Kazuki

Supporting

Kanzaki, Mayu

Supporting

Ishihara, Nobuko

Supporting
Because we are making use of some free resources to reduce the main server load, the player can be opened on another domain or showed as a new tab (you have to allow pop-up if you're not using Chrome).