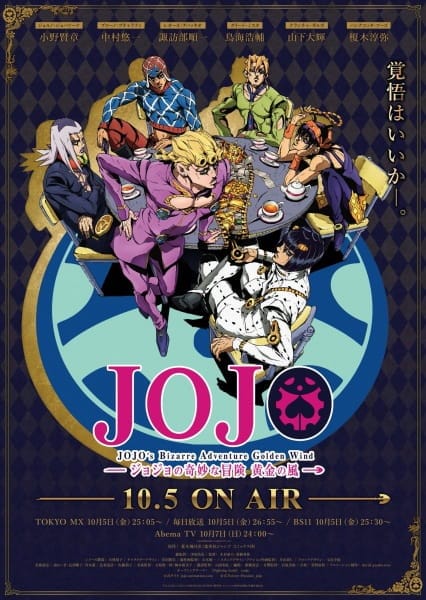 Aired: Oct 6, 2018 to Jul 28, 2019
Duration: 23 min. per ep.
Viewed: 494
Synonyms: JoJo no Kimyou na Bouken: Ougon no Kaze
In the coastal city of Naples, corruption is teeming—the police blatantly conspire with outlaws, drugs run rampant around the youth, and the mafia governs the streets with an iron fist. However, various fateful encounters will soon occur. Enter Giorno Giovanna, a 15-year-old boy with an eccentric connection to the Joestar family, who makes a living out of part-time jobs and pickpocketing. Furthermore, he is gifted with the unexplained Stand ability to give and create life—growing plants from the ground and turning inanimate objects into live animals, an ability he has dubbed "Gold Experience." Fascinated by the might of local gangsters, Giorno has dreamed of rising up in their ranks and becoming a "Gang-Star," a feat made possible by his encounter with Bruno Buccellati, a member of the Passione gang with his own sense of justice. JoJo no Kimyou na Bouken: Ougon no Kaze follows the endeavors of Giorno after joining Bruno's team while working under Passione, fending off other gangsters and secretly plotting to overthrow their mysterious boss. [Written by MAL Rewrite]
Buccellati, Bruno

Main

Fugo, Pannacotta

Main

Ghirga, Narancia

Main

Giovanna, Giorno

Main

Mista, Guido

Main

Una, Trish

Main

Abbacchio, Leone

Main

Tiziano

Supporting

Mrs. Menini

Supporting

Ultello, Monica

Supporting

Sale

Supporting

Prosciutto

Supporting

Polpo

Supporting

Polnareff, Jean-Pierre

Supporting

Pesci

Supporting

Pericolo, Nunzio

Supporting

Old Janitor

Supporting

Nero, Risotto

Supporting

Narrator

Supporting

Zucchero, Mario

Supporting
Because we are making use of some free resources to reduce the main server load, the player can be opened on another domain or showed as a new tab (you have to allow pop-up if you're not using Chrome).