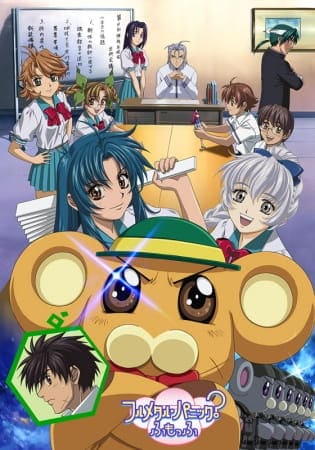 Aired: Aug 26, 2003 to Oct 18, 2003
Duration: 24 min. per ep.
Viewed: 9
Synonyms: Full Metal Panic? Fumoffu, Full Metal Panic Fumoffu, Fullmetal Panic? Fumoffu, フルメタル・パニック? ふもっふ
It's back-to-school mayhem with Kaname Chidori and her war-freak classmate Sousuke Sagara as they encounter more misadventures in and out of Jindai High School. But when Kaname gets into some serious trouble, Sousuke takes the guise of Bonta-kun—the gun-wielding, butt-kicking mascot. And while he struggles to continue living as a normal teenager, Sousuke also has to deal with protecting his superior officer Teletha Testarossa, who has decided to take a vacation from Mithril and spend a couple of weeks as his and Kaname's classmate. (Source: ANN)
Chidori, Kaname

Main

Sagara, Sousuke

Main

Akutsu, Mari

Supporting

Bonta-kun

Supporting

Hayashimizu, Atsunobu

Supporting

Hyuga, Masatami

Supporting

Inaba, Mizuki

Supporting

Kagurazaka, Eri

Supporting

Kalinin, Andrei Sergeivich

Supporting

Kazama, Shinji

Supporting

Kudou, Shiori

Supporting

Mao, Melissa

Supporting

Mardukas, Richard Henry

Supporting

Mikihara, Ren

Supporting

Mizuhoshi, Mr.

Supporting

Nishino, Kozue

Supporting

Pony-Man

Supporting

Saeki, Ena

Supporting

Testarossa, Teletha

Supporting

Tokiwa, Kyouko

Supporting
Comming soon!!! But still, you're very handsome.
Please comment for requesting this anime.