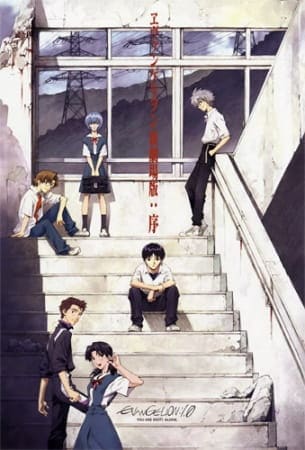 Aired: Sep 1, 2007
Duration: 1 hr. 40 min.
Viewed: 45
Synonyms: Evangelion 1.0: You Are (Not) Alone
In a post-apocalyptic world, the last remaining human settlement in Japan is the heavily fortified city of Tokyo-3. Fourteen-year-old Shinji Ikari is brought to the headquarters of Nerv, an underground organization lead by his estranged father, Gendou. He requests that Shinji become a pilot of an "Evangelion," a colossal android built to fight against monstrous and destructive alien creatures known as "Angels" that wreak havoc on the planet and threaten the survival of the remaining human race. Although initially reluctant, Shinji is swayed by the idea of reconciling with his father, and agrees to aid in mankind's perilous endeavor against its alien threat, as the pilot of Evangelion Unit-01. Thrust into the midst of a dangerous battlefield, Shinji must find the necessary courage and resolve to face against the Angels' incursions before it is too late. [Written by MAL Rewrite]
Ayanami, Rei

Main

Ikari, Shinji

Main

Katsuragi, Misato

Main

Aida, Kensuke

Supporting

Akagi, Ritsuko

Supporting

Aoba, Shigeru

Supporting

Fuyutsuki, Kohzou

Supporting

Horaki, Hikari

Supporting

Hyuuga, Makoto

Supporting

Ibuki, Maya

Supporting

Ikari, Gendou

Supporting

Ikari, Yui

Supporting

Lorentz, Keel

Supporting

Nagisa, Kaworu

Supporting

Pen Pen

Supporting

Suzuhara, Touji

Supporting
Because we are making use of some free resources to reduce the main server load, the player can be opened on another domain or showed as a new tab (you have to allow pop-up if you're not using Chrome).