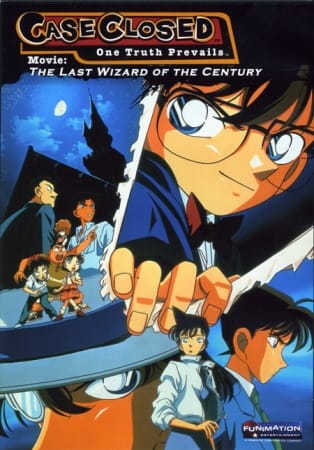 Aired: Apr 17, 1999
Duration: 1 hr. 40 min.
Viewed: 12
Synonyms: Case Closed Movie 3: The Last Wizard of the Century, Meitantei Conan: Seikimatsu no Majutsushi, Detective Conan Movie 3, 名探偵コナン 世紀末の魔術師
Kaitou Kid dares to challenge the police once more, setting his sights on the Russian Imperial Easter Egg. With the date, time, and place, the Osaka police force scrambles to stop him. But this time, Kid may have bitten off more than he can chew—Conan Edogawa, Heiji Hattori, and numerous others are also trying to get their hands on the jeweled egg. As the race for possession of the egg escalates, a string of murders threatens those after it, and at the same time the tragic truth behind the Romanov Dynasty is finally revealed. At the center of these developments, it is up to Conan to solve the gruesome murders and catch Kid, all while protecting those close to him and concealing his identity. [Written by MAL Rewrite]
Mouri, Ran

Main

Mouri, Kogorou

Main

Edogawa, Conan

Main

Yoshida, Ayumi

Supporting

Tsuburaya, Mitsuhiko

Supporting

Tooyama, Kazuha

Supporting

Takagi, Wataru

Supporting

Suzuki, Shirou

Supporting

Suzuki, Sonoko

Supporting

Shiratori, Ninzaburou

Supporting

Sawabe, Kuranosuke

Supporting

Sagawa, Ryuu

Supporting

Ovchinnikov, Sergei

Supporting

Nishino, Masato

Supporting

Nakamori, Ginzou

Supporting

Megure, Juuzou

Supporting

Kuroba, Kaito

Supporting

Kousaka, Natsumi

Supporting

Kojima, Genta

Supporting

Inui, Shouichi

Supporting
Comming soon!!! But still, you're very handsome.
Please comment for requesting this anime.