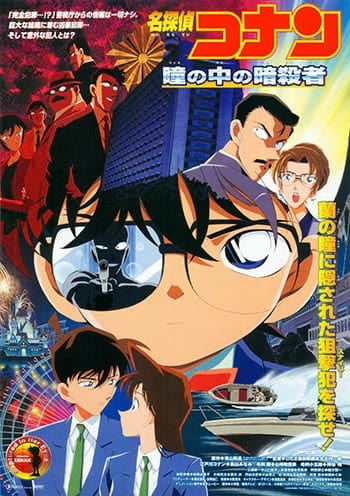 Aired: Apr 22, 2000
Duration: 1 hr. 40 min.
Viewed: 1
Synonyms: Case Closed Movie 4: Captured In Her Eyes, Meitantei Conan: Hitomi no Naka no Ansatsusha, Detective Conan Movie 4, 瞳の中の暗殺者
On a rainy afternoon, the Detective Boys witness a murder across the street. Barred by traffic, the culprit slips away and Conan Edogawa is left a single clue by a dying detective. Days later, another detective is found murdered in a parking lot, leaving the police rattled. Suspicious that the culprit is one of their own, everyone in the police department without an alibi is suspect. But despite being on high alert, they are outmaneuvered and suffer yet another attack—this time with Ran Mouri finding herself in the crossfire. Traumatized, Ran wakes in the hospital with retrograde amnesia, remembering nothing about her life. Soon released, she struggles to remember her past and grows fearful of not regaining her memories before being targeted by the killer for what she witnessed. As she is guarded by friends and family, it is up to Conan to piece together the clues and find who the murderer is before they strike again. [Written by MAL Rewrite]
Edogawa, Conan

Main

Mouri, Ran

Main

Agasa, Hiroshi

Supporting

Chiba, Kazunobu

Supporting

Haibara, Ai

Supporting

Imoto, Tamaki

Supporting

Jinno, Tamotsu

Supporting

Kazato, Kyousuke

Supporting

Kisaki, Eri

Supporting

Kojima, Genta

Supporting

Kuriyama, Midori

Supporting

Megure, Juuzou

Supporting

Mouri, Kogorou

Supporting

Narasawa, Osamu

Supporting

Odagiri, Toshiya

Supporting

Odagiri, Toshirou

Supporting

Satou, Miwako

Supporting

Shiba, Youichirou

Supporting

Shiratori, Ninzaburou

Supporting

Shiratori, Sara

Supporting
Comming soon!!! But still, you're very handsome.
Please comment for requesting this anime.