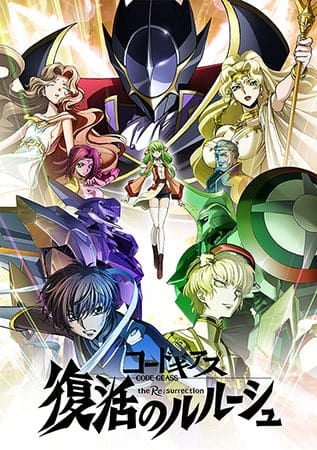 Aired: Feb 9, 2019
Duration: 1 hr. 52 min.
Viewed: 9
Synonyms: Code Geass: Fukkatsu no Lelouch
Since the demise of the man believed to be Britannia's most wicked emperor one year ago, the world has enjoyed an unprecedented peace under the guidance of the United Federation of Nations. However, this fragile calm is shattered when armed militants successfully kidnap former princess Nunnally vi Britannia and Suzaku Kururugi, the chief advisor of the Black Knights, sparking an international crisis. The powerful and untrustworthy Kingdom of Zilkhstan is accused of orchestrating their capture. To investigate, world authorities send Kallen Stadtfeld and her associates on a covert operation into the country. There, they encounter the immortal witch C.C., who is on a mission to complete the resurrection of the man responsible for the greatest revolution in history—a legend who will rise up, take command, and save the world from peril once again. [Written by MAL Rewrite]
Kururugi, Suzaku

Main

Lamperouge, Nunnally

Main

Lamperouge, Lelouch

Main

Shario

Main

Shestal

Main

C.C.

Main

Tamaki, Shinichirou

Supporting

Sumeragi, Kaguya

Supporting

Stadtfeld, Kallen

Supporting

Shamna

Supporting

Ougi, Kaname

Supporting

li Britannia, Cornelia

Supporting

Gottwald, Jeremiah

Supporting

Einstein, Nina

Supporting

Cardemonde, Rivalz

Supporting

Bitur

Supporting

Ashford, Milly

Supporting

Alstreim, Anya

Supporting
Because we are making use of some free resources to reduce the main server load, the player can be opened on another domain or showed as a new tab (you have to allow pop-up if you're not using Chrome).