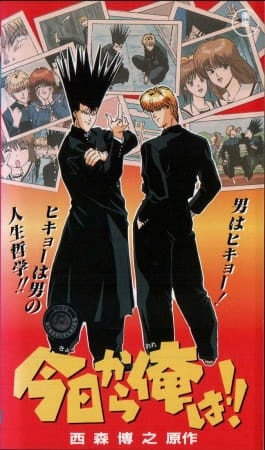 Aired: Dec 11, 1992 to Dec 21, 1997
Duration: 43 min. per ep.
Viewed: 12
Synonyms: Kyou kara Ore wa!!
Two transfer students, Mitsuhashi Takashi and Itou Shinji, tired of their boring normal life and unpopularity decide to take their arrival at a new school as an opportunity to reinvent their image, and become delinquents! Itou's justice clashing with Mitsuhashi's mischievous ways, they initially antagonize one another but soon become fast friends. The delinquent duo set out on various misadventures to become the greatest delinquents in all Japan!
Mitsuhashi, Takashi

Main

Itou, Shinji

Main

Tsutsumi

Supporting

Tanigawa, Yasuo

Supporting

Tanaka, Ryou

Supporting

Sudou

Supporting

Sasaki

Supporting

Sagawa, Naoya

Supporting

Sagara, Takeshi

Supporting

Niwatori

Supporting

Nakano, Makoto

Supporting

Murai

Supporting

Morigawa, Ryouko

Supporting

Mitsuhashi, Mother

Supporting

Masuda

Supporting

Maruta

Supporting

Kurosaki, Tetsuya

Supporting

Kurosaki, Father

Supporting

Koyama, Tarou

Supporting

Katakiri, Satoshi

Supporting
Because we are making use of some free resources to reduce the main server load, the player can be opened on another domain or showed as a new tab (you have to allow pop-up if you're not using Chrome).