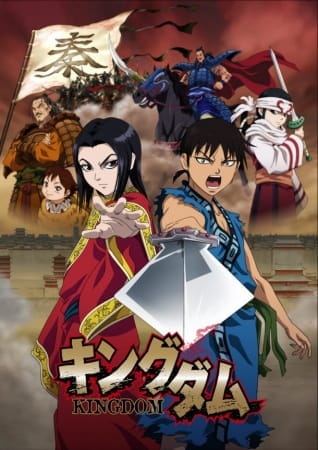 Aired: Jun 4, 2012 to Feb 25, 2013
Duration: 25 min. per ep.
Viewed: 16
Synonyms: Kingdom, キングダム
China's Warring States period, a raging dragon that would raze the land for 500 years, saw many kingdoms rise and fall, making way for the next generation of kings and generals to fight for supremacy. Eventually, seven powerful states emerged from the endless cycle of warfare. In the kingdom of Qin, Li Xin, a war-orphaned slave, trains vigorously with fellow slave and best friend, Piao, who shares his proud dream of one day becoming a Great General of the Heavens. However, the two are suddenly forced to part ways when Piao is recruited to work in the royal palace by a retainer of the King. After a fierce coup d'état unfolds, Piao returns to Xin, half dead, with a mission that will lead him to a meeting with China's young King, Ying Zheng, who bears a striking resemblance to Piao. Kingdom follows Xin as he takes his first steps into the great blood-soaked pages of China's history. He must carve his own path to glory on his long quest to become a Great General of the historic Seven Warring States. [Written by MAL Rewrite]
He Liao, Diao

Main

Lei, Qiang

Main

Li, Xin

Main

Ying, Zheng

Main

Ba, Jio

Supporting

Bai, Qi

Supporting

Bi

Supporting

Buwei, Lü

Supporting

Chang Pin Jun

Supporting

Chang Wen Jun

Supporting

Cheng, Jiao

Supporting

Chong, Yuan

Supporting

Duanhe, Yang

Supporting

Gong, Biao

Supporting

Hu, Shang

Supporting

Kaine

Supporting

Kou

Supporting

Li, Mu

Supporting

Li, Si

Supporting

Liao

Supporting
Comming soon!!! But still, you're very handsome.
Please comment for requesting this anime.