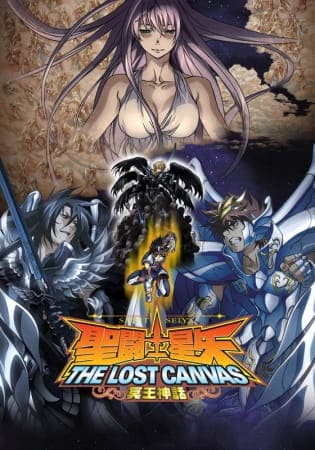 Aired: Jun 24, 2009 to Apr 21, 2010
Duration: 24 min. per ep.
Viewed: 4
Synonyms: Saint Seiya: The Lost Canvas, 聖闘士星矢 THE LOST CANVAS 冥王神話
A Holy War, from ancient mythology, where the Goddess Athena and Hades have fought against each other while defending the earth repeatedly over the span of 200 years. The story takes place in 18th century Europe, 243 years prior to the original "Saint Seiya" Three small children, Tenma, Alone, and Sasha have all shared a very happy childhood together. Tenma who is quite aggressive but upstanding has moved to Sanctuary to become a saint. It is there that he is reunited with Sasha who is the sister of Alone and learns that she is the reincarnation of Goddess Athena. Alone, who is kind, gentle and loves painting was chosen for the body of enemy King Hades. Tenma eventually becomes a saint of Pegasus and engages in a fierce battle with his best friend Alone, the King of Hades. Pegasus Tenma, King Hades, and the Goddess Athena and through the twist of their 3 fates merge together which unfolds a prologue to the original Saint Seiya. (Source: TMS Entertaiment)
Alone

Main

Crane, Yuzuriha

Main

Pegasus, Tenma

Main

Sasha

Main

Unicorn, Yato

Main

Sagittarius, Sisyphus

Supporting

Salinsa

Supporting

Taurus, Hasgard

Supporting

Thanatos

Supporting

Virgo, Asmita

Supporting

Agasha

Supporting

Altar, Hakurei

Supporting

Aries, Shion

Supporting

Behemoth, Violate

Supporting

Bennu, Kagaho

Supporting

Cait Sith, Cheshire

Supporting

Cancer, Manigoldo

Supporting

Cancer, Sage

Supporting

Griffon, Minos

Supporting

Hypnos

Supporting
Comming soon!!! But still, you're very handsome.
Please comment for requesting this anime.