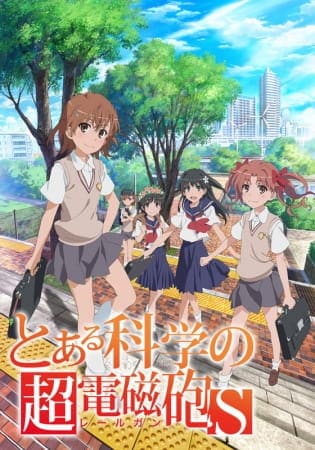 Aired: Apr 12, 2013 to Sep 27, 2013
Duration: 24 min. per ep.
Viewed: 4
Synonyms: A Certain Scientific Railgun S, Toaru Kagaku no Railgun 2, Toaru Kagaku no Choudenjihou 2, A Certain Scientific Railgun 2, とある科学の超電磁砲S
Mikoto Misaka and her friends are back, investigating rumors across Academy City. Soon, Mikoto discovers something terrifying: horrific experiments are taking place throughout the city, involving the murder of thousands of espers. Moreover, these espers are far from just ordinary people: they are clones of Mikoto herself. Feeling responsible for their treatment, she sets off to put an end to the experiments; however, the forces opposing her are much more dangerous than she anticipated, and Mikoto finds herself up against some of the most powerful espers imaginable. Toaru Kagaku no Railgun S continues the story of the Railgun as she desperately fights to put an end to the inhuman experiments that she believes she helped cause, her life dragged deep into despair in the process. There's never a dull moment in Academy City, but no one ever said all of them would be pleasant. [Written by MAL Rewrite]
Misaka, Mikoto

Main

Saten, Ruiko

Main

Shirai, Kuroko

Main

Uiharu, Kazari

Main

Awatsuki, Maaya

Supporting

Edasaki, Banri

Supporting

Febri

Supporting

Haruue, Erii

Supporting

Heaven Canceller

Supporting

Hokaze, Junko

Supporting

Janie

Supporting

Kamijou, Touma

Supporting

Kihara, Gensei

Supporting

Kihara Lifeline, Therestina

Supporting

Kinuhata, Saiai

Supporting

Kongou, Mitsuko

Supporting

Konori, Mii

Supporting

Last Order

Supporting

Madarame, Kenji

Supporting

Minori

Supporting
Comming soon!!! But still, you're very handsome.
Please comment for requesting this anime.